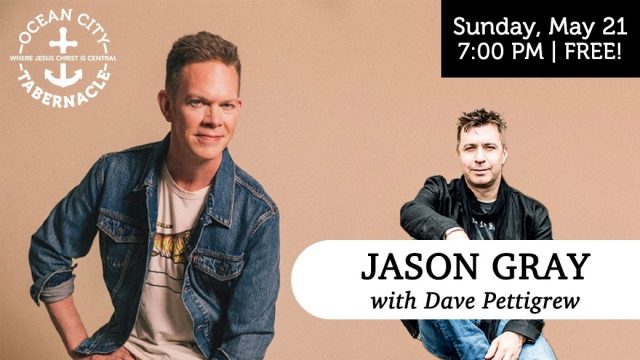 The Ocean City Tabernacle is excited to welcome Centricity recording artist Jason Gray for a free concert at 7 p.m. on Sunday, May 21.
During his 30-plus-year career, Gray has delivered three Top 20 Christian albums and ten Top 20 Christian singles, including 2011's "Remind Me Who I Am," 2012's "Good to Be Alive," 2016's "Sparrows," and 2022's "When I Say Yes."
Also appearing with Gray will be special guest Dave Pettigrew. Known throughout the northeast for his powerful vocals and poignant songwriting, Pettigrew is an effective worship leader who regularly appears in concert alongside top Christian artists.
Admission for this event is free. Doors open at 6:15 p.m. for general admission seating.
For a complete schedule of speakers, concerts, programs and events at the Ocean City Tabernacle, visit octabernacle.org. The Tabernacle is located at 550 Wesley Ave. in Ocean City.