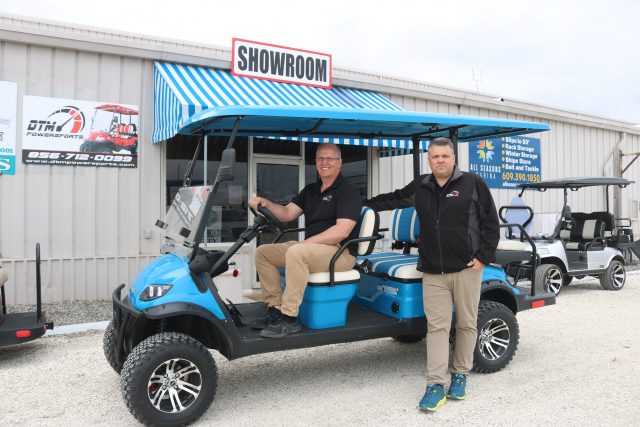 By MADDY VITALE
What better way to explore the beach, boardwalk, and downtown shopping than to do it while driving around on a street legal electric golf cart?
Street Legal Vehicles are growing in popularity and appeal in shore towns. DTM Powersports makes it easy to own one of these cool vehicles that go up to 25 mph.
With parking at a premium in popular shore towns entering the busy season, it's easier to park a cart that takes up less space than most cars. They are green-friendly – offering the option of a vehicle minus the carbon footprint – and, if you ask anyone who has one, they're fun to drive.
That's why Arret Dobson, vice president of DTM Powersports, one of the leading Kawasaki dealerships in South Jersey with a showroom in Upper Pittsgrove, has opened a new, seasonal second DTM Powersports location in Marmora.
Opened in April at the All Seasons Marina at the foot of the 34th Street Bridge, DTM Powersports features a wide array of four and six-seater electric golf carts.
Dobson explained the allure of the electric vehicles. "They are easy to park and cool to drive around," he said in a recent interview on location at the Marmora DTM Powersports showroom. "And there is zero maintenance. Drivers and passengers just need to buckle up and go."
Over the past two years, shore towns have been adjusting to accommodate street legal electric vehicles by installing charging stations, keeping the police department and community on alert, and raising awareness that the vehicles and cars share the same roads.
The electric carts feature lithium or gel batteries. "All you have to do is plug them in to recharge them and go," Dobson said. "They are all street legal vehicles."
The prices range from $10,500 to $14,500 for the ICON carts. Dobson said that the ICON brand is excellent and is DTM Powersports' preferred brand.
"We think we have a quality product here with ICON," he said. "We are the only factory authorized ICON dealers at the Jersey Shore here that sells them. They have been a great vehicle for us and our customers."
Dobson said that the ICON brand features the premier Epic model. Some of the upgrades include high-quality sound systems, front racks for extra storage – a big bonus when toting beach gear – and other amenities and upgrades customers can choose.
DTM Powersports is a licensed motor vehicle dealership. Mark Boyle, the sales manager, works with customers to make the purchase as easy as possible.
"I do all of the paperwork. There's no need to visit the NJMVC. And all you need is a regular driver's license to operate an electric vehicle," Boyle noted. "We offer same-day purchase. We could have you on your way in your new cart in a half an hour."
Among the many advantages of having an electric cart is the possibility of qualifying for a tax credit. Electric carts can qualify for a minimum $2,500 tax credit under the EV tax credit program, Dobson pointed out.
Dobson and Boyle said that while having opened less than a month ago, people are quickly finding out about their Marmora location, and their sales are starting to take off.
"We are getting in new inventory all of the time," Dobson said.
Dobson and Boyle are excited about the new showroom and hope residents in the shore communities and visitors who come down for vacations at the shore will check out what they have to offer. The dealership will remain open until shortly after Labor Day.
"We've been in the powersports business and the golf cart business for a dozen years," Dobson said. "We were in the golf cart business and sold fleets of carts, before adding electric carts to our inventory."
The Marmora location also serves as a connection to the expansive selection of dirt bikes, motorcycles, ATVs, and jet skis available at their Upper Pittsgrove main showroom.
For people looking to have their electric vehicles serviced, the Marmora location offers pick-up and delivery service to and from the Upper Pittsgrove location. Marmora also connects customers to their Kawasaki line of vehicles – a brand not sold at the southern shore anywhere else.
And while they still sell golf carts for golf courses, their electric vehicle inventory is exploding in popularity among homeowners and campgrounds.
"We sold his and hers electric carts to a husband and wife recently," Boyle said. "This way, there was room for the kids between both the carts."
DTM Powersports is open at its Marmora location Tuesday through Friday from 10 a.m. to 6 p.m. and Saturday from 9:30 a.m. to 4 p.m. until Labor Day.
For more information about the Marmora location and DTM Powersports located in Upper Pittsgrove, N.J., visit https://dtmpowersports.com/ or call 888-880-3685.