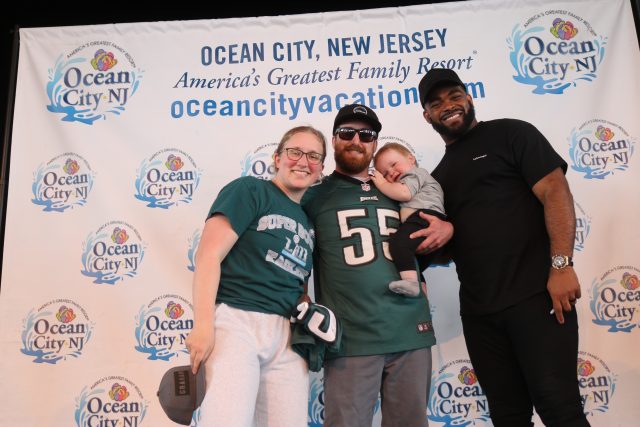 By MADDY VITALE
Philadelphia Eagles Super Bowl champion Brandon Graham didn't just say how he felt when he strip-sacked Tom Brady in the 2018 Super Bowl, which secured the victory for the Birds. He showed it.
He threw his arms in the air and enthusiastically shouted, "Yeah!" To that, the audience of devoted Eagles and Graham fans applauded.
Graham was the major attraction in the afternoon at the fifth annual Sports Memorabilia Show on Saturday at the Ocean City Music Pier.
The former first-round draft pick and All-Pro defensive end will return as a team leader for the Eagles on the defensive line for the 2023 season.
In addition to meeting professional athletes, show attendees had a wide array of sports merchandise to purchase — from signed baseballs and footballs to autographed jerseys and loads of trading cards.
Brandon Graham is asked his reaction about his strip-sack of Tom Brady in the 2018 Super Bowl.
Sports fans not only got the chance to ask Graham questions about his 14-year tenure with the Eagles, but they also got to meet him after the event.
Earlier in the day, Phillies fans got to meet former Phillies relief pitcher Chad Durbin, a member of the Phillies team that won the World Series in 2008.
Durbin also had two post-season victories in 2009 as the Phillies returned to the Fall Classic. In 2022, he rejoined the Phillies as a color analyst for the radio broadcast team.
While Saturday morning was all about the Phillies, the afternoon belonged to the Birds.
In addition to Graham, former Philadelphia Eagles linebacker Ike Reese made a special appearance at the show. Reese played for the Eagles from 1998 to 2004.
He helped them win the NFC Championship in 2004. He currently hosts the afternoon show on the Philadelphia sports radio station WIP-FM, 94.1.
Reese asked Graham a few questions and the current and former Eagles talked about the strength of the team.
During the Q&A, Graham was asked what it was like to be a first-round draft pick, what it was like to strip-sack Brady and who his idol is, among many other questions from fans.
He captivated fans who lined the sides of the Music Pier. He laughed, smiled a lot and was down to earth. He did not turn down fans afterward who quickly went up to him and asked for some selfies.
When asked about being a first-round draft pick, he replied, "It's a special moment. You always go back to pictures and videos."
Don't ever lose sight of where you began, he noted.
"You try not to take that moment for granted," he said. "I've been living out my dreams for 14 years."
Graham thanked his fans for helping make his sports career come true.
"I think it is a tribute to the fans. We have passionate fans," he said, adding, "I am excited for the Super Bowl because I think we have a shot for real."
There was the obvious question that he has been asked countless times since 2018.
A fan called Graham's strip-sack of Brady "my favorite football play in history."
"Do you ever get tired of being asked about that?" she asked him.
Without hesitation, he said, "Nope. I will never get tired of that because, honestly, that was my very first championship of my career. To make it to the Super Bowl with a team like Philly that wanted it desperately just like me, trust me I will never get tired of it."
One fan asked Graham, "Would you rather strip-sack Brady again or would you rather have another Eagles ring?"
"Oh, man. I need that ring," Graham said, with audience members erupting in laughter.
Ocean City employee Michael Allegretto, who emceed the event, asked Graham if he would wear both rings together. Graham said yes, absolutely, as the audience again began to laugh.
Graham said his sports idol growing up was football great Ray Lewis.
But his ultimate idol is someone much closer to him.
"It's my mom," Graham said. "She's the one who put the work ethic in me."
After the Q&A, fans lined up to meet Graham and Reese and get their pictures taken with them.
Brandon and Stephanie McCrane, of Marmora, and their son, Graham, 14 months, waited in a very long line to meet Graham.
And it was worth it, Brandon McCrane emphasized.
"He's my favorite Eagle, definitely," he noted. "I am super-excited to meet him."
When asked why Graham was his favorite player, McCrane said, "Other than the fact that he is the greatest player in Eagles history, he's a team leader."
In between the two shows from Durbin to Graham, vendors gave attendees a plethora of collector's items representing a variety of sports and teams to browse from and buy.
Lucas Johann, of Manahawkin, celebrated his 11th birthday on Thursday at a Phillies game.
On Saturday, he and his dad, Steve, and brother, 7-year-old Jack, browsed the vendor tables, looking at trading cards and football Jerseys.
"This was another surprise for his birthday," Steve Johann said. "Lucas wanted to meet Brandon Graham. I wanted to meet him, too."
"I'm excited to meet the players," Lucas said.
Anderson Wisnefski, 11, of Ocean City, and his friend, Bennie Dougherty, 11, also of Ocean City, browsed the tables looking at trading cards and even bought a few along with mini-replica helmets. Then they got to meet Graham.
Afterward, both Anderson and Bennie said, hands down, there was one very memorable part of the day.
"My favorite part was meeting Brandon Graham and getting my stuff signed," Bennie said.
Thomas Rocco, of Linwood, brought his sons, Hunter, 10, and 7-year-old Conner, who were very excited about meeting Graham.
But while they waited, they happily bought and traded baseball cards.
"It's a good event for kids," Rocco said. "It's also educational because the kids and adults learn about the sports. They learn about stats. They learn about the different players and they learn about the history of sports."