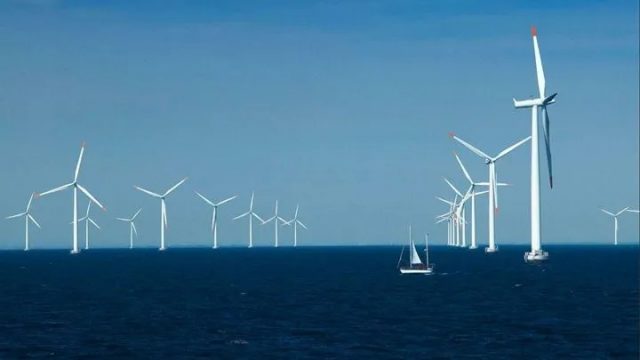 By MADDY VITALE and DONALD WITTKOWSKI
An online petition drive in opposition to offshore wind farms following the deaths of dozens of whales along the East Coast has now hit a milestone of 500,000 signatures.
Suzanne Hornick, an Ocean City resident and a founder of Protect Our Coast NJ, the independent grassroots organization that started the petition drive, said the goal is to collect a million signatures as a push continues to halt the wind farm projects.
To view the petition click here: https://www.change.org/p/protect-our-coast-nj-save-the-whales-stop-offshore-wind
"Protect Our Coast NJ is absolutely thrilled that we have well over half a million signatures on our petition that was only started mid-January. Many of the signers are from states other than New Jersey up and down the East Coast," Hornick said. "This is a wake-up call to every single politician. If a half a million people can come together against a single issue so quickly, imagine what we will be able to do going forward."
The petition drive has gained momentum over the past couple of months, following the deaths of more than 30 whales along the East Coast since December, including at least 10 in New Jersey.
In addition to the whales washing up, dolphins have also been discovered beached along the coast. Eight dolphins beached themselves in Sea Isle City. Two of the dolphins died almost immediately, while six others were euthanized after their condition deteriorated.
The Danish energy giant Orsted has proposed building nearly 100 towering wind turbines 15 miles off the coast between Atlantic City and Stone Harbor, passing by Ventnor, Margate, Longport, Ocean City, Sea Isle City and other shore towns.
Opponents of the wind farms, including members of Protect Our Coast NJ and other groups, have concerns that sonar mapping of the seabed for the projects is connected to the recent spate of deaths of whales and other marine life along the coast.
In March, Protect Our Coast NJ held a rally at the Trenton State House Annex to demand that Gov. Phil Murphy halt the projects.
Murphy, a strong supporter of offshore wind technology, wants New Jersey to become a leader in green energy. So far, New Jersey has approved three offshore wind farms and is looking to add more. Murphy's goal is to have offshore wind farms producing 11,000 megawatts of power in New Jersey by 2040.
At the same time, Murphy and President Joe Biden are encountering opposition to their support of offshore wind. Hornick said the goal of the petition drive is to be able to bring the message directly to Washington, D.C.
"We hope to be able to present this petition to President Biden and get him to understand this is not the way to bring renewable energy to our national grid. Americans are getting educated on this issue and we vote," Hornick said.
U.S. Rep. Jeff Van Drew, whose district includes the shore towns of Atlantic and Cape May counties, has been one of the most outspoken opponents of offshore wind energy.
In March, Van Drew convened a congressional hearing at the Wildwoods Convention Center in March that drew a standing-room only crowd and intensified efforts among wind farm opponents to halt the projects until further investigation can be done.
The petition by Protect Our Coast NJ is addressed, specifically, to President Joe Biden and Gov. Murphy.
The petition urges politicians to halt the projects, which opponents say are being fast-tracked.
In part, the petition reads, "These massive, unprecedented experimental projects have been fast-tracked without meaningful public input, and with all the impacted cities and towns denied the right to home rule by executive action of the Governor of New Jersey."
It continues, "The proposed offshore wind farms could result in irreversible ecological damage to the marine environment, including the injury or death of thousands of marine species, and as a result, greatly diminish the quality of life in our coastal communities."
"These projects are projected to reduce shore residents' property values, curtail tourism, severely affect the fishing, boating, and hospitality industries, greatly increase energy costs to New Jersey ratepayers, and provide no tangible benefits to the people of the State of New Jersey," the petition concludes.
Jonah Smith, of Protect Our Coast NJ, said in a statement that New Jersey should not be a "dumping ground," for wind farm projects.
"The same giant wind turbines and electrical sub-stations that are planned for construction off our shores were also supposed to be built off of the Hamptons," Smith said.
He continued, "However, that project was summarily cancelled by the Biden administration because, they would be a visual eyesore for public and private Hamptons beachgoers, which the state of New York relies on for billions in tourism dollars. Sound familiar?"
Smith maintains that wind farm supporters "aren't even pretending to be concerned about whales, the fishing industry, coastal ecology, health effects, national security, etc."
"New Jersey should not be the dumping ground," he said.