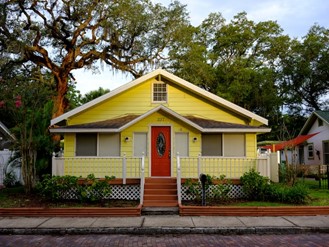 SunCoast Rentals of Jacksonville, FL was established by Carter Funk and his son Chris Funk in 2008 to better manage property. Their focus is on providing benefits for investors, making sure properties produce the most benefits for those investing in both multi-family and single-family properties. In the following article, a look at the history of the business, and what the company provides to its customers.
Looking for the best rentals to manage a fantastic home life or even vacation spot? One of the best names in rental properties is that of SunCoast Rentals in Jacksonville, FL. However, if a renter is unfamiliar with an organization, it can be helpful to get some background before deciding. More below on the business.
In this article, we will review the history of SunCoast Rentals, and how they serve the local community. By the conclusion, renters and investors alike should feel confident that in working with the company, they will be putting their trust in a reliable father-and-son team with their best interests at heart.
The History of SunCoast Rentals of Jacksonville, FL
It is hard to understand the benefits of working with any organization or entrusting the management of one's assets to that organization without first knowing a bit more about them.
Chris Funk, a former Event Equestrian sportsman turned excellent business executive and entrepreneur, got his start in the real estate industry with great success in the late 2000s. His skills in strategic marketing and partnership forging brought benefits to the real estate partners he worked with.
In 2008, he began his own business: SunCoast Property Management LLC, located in both Georgia and Florida locations. This began as a property management company, and once the national economy and real estate market saw more stabilization, he also included the creation of Southern Impression Homes.
Southern Impression Homes is the development and building arm of Chris Funk's real estate business venture, and works in efficient partnership with SunCoast Rentals of Jacksonville, FL. The two divisions' teams operate like a well-oiled machine and create an efficient experience for clients.
Chris Funk has not contributed to the SunCoast Property Management business on his own. His father, Carter T. Funk, brought his expertise to the business after a history in leadership. Among his many excellent business management qualities is a position as the President of Belden Energy Services and thirty years of experience in leadership of the energy industry.
The business is in capable hands, along with the Southern Impression Homes division. Together, father and son have been raising the levels of excellence in the real estate and rental industry since the early 2000s!

What Does SunCoast Property Management Do
SunCoast Rentals of Jacksonville, FL offers both property management services and rental properties, as well as offering owners the opportunity to invest in Build to Rent projects.
The company's Build-to-Rent properties are those which have been built so that long-term rental can be achieved; they are idea for both singles and families to live in for several years.
Those who own a home under their management or is taking up residency in one of their rentals a network of vendors who have been thoroughly vetted. This means that all repair workers have to pass standards for professionalism as well as insurance and licensing requirements before being allowed to work on a home.
Typically, properties that are offered to buyers are provided with low overhead costs. The contracts the business offers are pre-construction, meaning investors can expand their portfolios with brand new properties that suit their needs.
One of the greatest benefits of working with SunCoast Rentals is that they will provide a free application to renters. This is a huge asset when trying to financially plan for a property investment, when every little bit counts. SunCoast Rentals of Jacksonville, FL reviews, and understands the value of real estate management and investing while looking for a source of stable, passive income.
In Conclusion
In conclusion, SunCoast Rentals are a product of SunCoast Property Management, LLC, which was founded in 2008 by Chris and Carter Funk. The main goal of this company is to transform the property management industry to the benefit of renters and investors. This is accomplished both with Single-Family properties and Multi-Family properties.