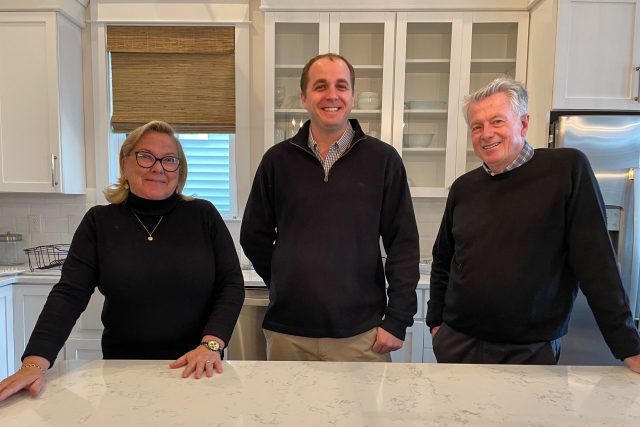 By DONALD WITTKOWSKI
Gray Haenn, Tom Melchionni and Donna Brown are family members who are in the real estate business.
Now, they are part of a real estate firm that they consider to be their extended family.
They have joined Berger Realty, a household name in Ocean City that they say treats their employees and clients like, you guessed it, family.
Headed by its legendary 95-year-old owner, Leon Grisbaum, Berger Realty is the largest real estate firm in Ocean City in terms of total transactions for sales and rentals.
Gray, Tom and Donna said they plan to combine their skills and experience with all of the advantages that Berger Realty can offer in the real estate market to serve their clients.
"We're going to continue servicing our clients, but we now have additional tools at our disposal that are going to help them, rental wise, sales wise, because Berger Reality is the No. 1 broker on the island," Gray said.
"We're excited about joining a company that we think enhances the good service that we pride ourselves on with our clients," Tom added. "We just thought it was a full service, well-established Ocean City company that allowed us to continue to give our clients the best service."
Donna said that Berger simply offered the best option for all three of them as a family and as a real estate team.
"I thought they had a lot to offer as far as rentals and sales. That was the big thing. Then, they have the technology support," she said of the company.
Donna and Tom are married and Gray is their son-in-law.
Tom has 45 years of experience in real estate, while Donna has 40 years. Gray started in real estate in 2015, so he is the relative newcomer in the family.
"I think that we have a comprehensive understanding of the ever-changing Ocean City market," Gray said of the family's experience with real estate. "Based on our combination of experience and what we all bring to the table, we're able to bring unique insights and marketing for our clients that get them the best deal possible."
Tom noted that being with Berger also allows them to give their clients "the best business experience possible."
"We are capable of operating pretty much in any market because we have an historical experience that allows us to basically navigate any market conditions in our client's best interests," he said.
The idea of joining an independently owned company that promotes a family atmosphere with its employees and clients was also very appealing to them.
"It's like the family business. If I have an issue, I can walk to his office and talk to him about it. I don't have to go through a corporate chain. The fact is that he still cares about the business, that he's in here working. He's not like an absentee owner, that type of thing," Gray said of Leon Grisbaum.
Even at the age of 95, Grisbaum comes into the office on most days for work. He recently made headlines with the announcement that he is donating $3 million to help Ocean City build a new terminal at the municipal airport. Grisbaum is known around town as an avid pilot who has about 75 years of flying experience.
Grisbaum succeeded Edgar Berger, the founder of Berger Realty, as the owner after Mr. Berger's death. Grisbaum built up what was once a virtually one-man operation on the corner of 32nd Street and Asbury Avenue in the late-1940s, according to the company's website.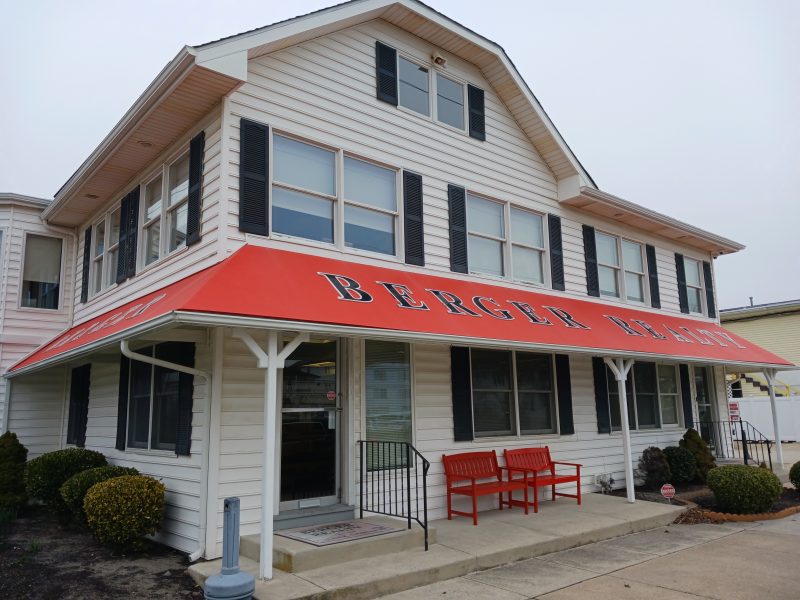 The office at 3160 Asbury Ave. remains the company's headquarters. There are also four satellite offices as well. For more information, go to bergerrealty.com or call (609) 399-0076.
As an independently owned company, Berger Realty says it remains an anomaly in today's real estate world of large conglomerates and even larger franchised affiliated agencies.
Gray, Tom and Donna are based at Berger's main office at 3160 Asbury Ave. They said they look forward to carrying on the company's traditions in the shore real estate market.
"People know us and work with us. But when we go into meet someone new and you say you work with Berger, it's like, 'Oh, I know Berger, I rented from Berger 25 years ago or I do business with them,'" Gray said. "So, it's a very common household name on the island."
For Gray, Tom and Donna, their relationship with Berger it is a continuation of their longtime association and love of Ocean City and the shore.
Tom and Gray have enjoyed summer vacations in Ocean City since they were children. Donna was born and raised in Stone Harbor. Her parents and grandparents also came from Stone Harbor.
"As the saying goes, you have sand in your shoes, and it never goes away," Tom said. "So, we have a lifetime of experience of what the shore is all about, and that's why we love doing what we do."
As a real estate agent, Gray said he wants to help his clients to have the same great experiences at the shore that he has enjoyed since his childhood.
"We were fortunate as children to come down and spend our summers here. That's why we fell in love with it. That's why I would come to the beach. And I would like to share that experience and help them to recreate those memories with their kids," he said.
As a family man, Gray finds inspiration from his wife, Kristina, his daughters, Caroline and Isabella, and his newborn son, James.
Sounding the family theme again, Gray, Tom and Donna spoke of the generations of clients that they have not only served, but established friendships with over the years through their careers in the real estate business.
"Generation after generation, it's true," Tom said. "I've been in the business long enough where I'm dealing with second, even third generations of customers. It says a lot about Jersey Shore real estate. It is a generational experience."
"One of the great things about being in real estate is the relationships you develop, not just the business relationships, but the personal relationships you develop with your clients – that you become friends with, you're going to their weddings, you're part of their families in some way, and that's one of the best parts of doing what we do," he added.