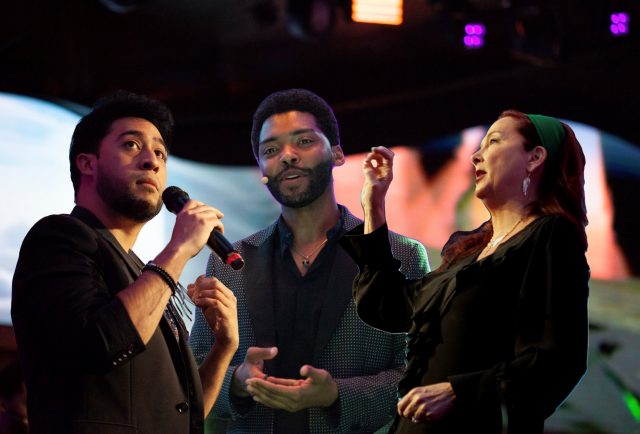 By MADDY VITALE
There's a show in Las Vegas creating a flurry of excitement for audiences while they enjoy brunch, sip mimosas and listen to three psychic mediums who walk around the room and give readings.
"Brunched By An Angel" opened at The Palms Casino Resort in November with highly acclaimed psychic mediums Reginald Lewis, Loriann Mans and Christopher Allan.
"We did our first four shows in November. We are doing another four shows this month," creator and executive producer Shane Farley said in an interview. "People are starting to plan their trips around the Las Vegas shows. There is a lot of excitement about it."
With three psychic mediums in one room, the show gives the audience better odds at receiving a reading.
"Isn't that what Vegas is all about, the best odds?" Farley remarked.
In addition to food and psychic readings, there is also a great house band.
"We have a house band that is amazing. It's a real event," Farley added.
The show is quickly gaining popularity. So much so that Farley wants to bring the show to the East Coast as well, specifically the Atlantic City and possibly Connecticut casinos.
"We are starting to have conversations to figure out where the best venue would be for us in Atlantic City," Farley said. "People on the East Coast reach out to us all the time to see when we are coming."
Whether a believer or just there for the fun of it, $75 gets audience members brunch, mimosas and a good time, while listening to psychic readings or being selected for one.
"There are those who connect with their loved ones via psychic medium. We say VIPs dine with RIPs," Farley said. "If you're a skeptic, you leave more open-minded after the show."
Some guests attend the brunch feeling weighted down with guilt or yearning for information about someone who was dear to them who passed away, Farley noted.
"There was a woman who was married for 40 or 50 years who felt like she didn't do enough when taking care of her husband. After the reading, she said, 'You healed me.' That reaction never gets old for me," he said.
Farley came up with the idea to bring the show to Atlantic City when he and Reginald Lewis went to Ocean City where Lewis did a private reading.
"We saw firsthand how the people reacted to the reading in Ocean City and we said we need to set this up in a venue in Atlantic City," he said.
Allison Wisnefski, of Ocean City, and her friends were part of the private reading.
She spoke of how Reginald Lewis "amazed" her group of friends during the session.
"Reginald is amazing. He performed a private session for friends and I and it really touched the hearts of everyone," she said. "He not only amazed us with his ability to make personal connections, but did so in the kindest, most welcoming manner. Everyone enjoyed him and his talents so much."
Farley, 50, grew up in Hunterdon County, N.J., and lives in Los Angeles. He is a four-time Emmy Award-winning executive producer and has been producing celebrities, athletes and musicians for years.
"They are all fascinating people, but what I saw were the psychic mediums have this gift and talent I can't explain," he said. "Some people are more enlightened, and I want to bring that experience to an audience."
He came up with the idea to do the show four years ago.
"I worked with Reginald Lewis for about eight years and he and I were looking at potentially doing a TV show together. I had an idea to partner him with two other people with similar gifts to him," Farley said of how the show came about. "Since there are three of them, your chances of being read are much higher."
Here is how Farley described the show on www.brunchedbyanangel.com:
"This is a show that I have been imagining producing for many years … On many of the shows that I've produced in the past, I had the opportunity to book and work with some of these amazing psychics and I have seen them completely blow away an audience with their unique gift. They can truly connect people with their deceased loved ones and seeing them help someone find peace and the pure joy that comes from the experience is hard to explain until you see if for yourself. The show is so unique, and the experience will be different each time that people can come see it over and over."
For more information, visit www.brunchedbyanangel.com