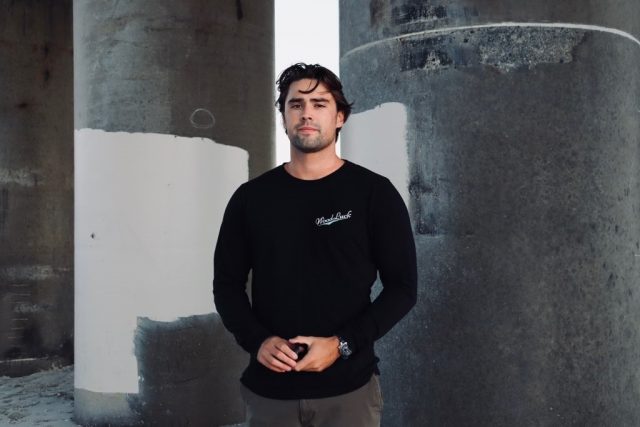 By MADDY VITALE
Local entrepreneur Jake Brown isn't just sitting back as his inventory of WoodLuck hoodies, shirts and other merchandise sells online and on the Ocean City Boardwalk at Stainton's by the Sea.
Brown, 25, of Ocean City, creates new clothing pieces, offers new colors and boasts enough stock that repeat customers have an array of comfortable fashions to choose from and newcomers to the WoodLuck brand see what others are talking about.
"We are constantly trying to bring customers a unique addition to their rotation," Brown said Tuesday. "Stainton's will be restocked this week."
This summer, Brown opened the shop at Stainton's by the Sea at 12th Street and Boardwalk, giving customers the experience of trying on "Woodhoods," "tees," hats and other items prior to purchasing the clothing.
And for those who love the convenience of online shopping, all of WoodLuck's items can always be ordered by visiting woodluckapparel.com.
"We have some deals on merchandize online. People should check it out," Brown said.
There are long-sleeved shirts and like the other garments, they have the WoodLuck logo with a simple, clean sweep of color under the logo. The backs of the shirts have designs ranging from surfboards to sundials.
The hoodies have thin, wooden labels as part of their unique design. The company name arose out of Brown's superstition to "knock on wood" for good luck.
"People should check out our new line of Woodhoods," Brown said. "We wanted to come up with some color combos that we haven't done before to offer something you might not already have in your fall wardrobe."
The new line is called the "Retro Fish Woodhoods."
The description on the website for one of the pieces featuring a new color — called storm blue — gives a sense of the quality of hoodies that make great, comfortable and stylish accents to any wardrobe.
"This hood will be your next favorite sweatshirt, sturdy cuffs and a thickness that feels like quality, a color addition that your wardrobe will thank you for — a beachy blue with a retro board color scheme that pops."
Brown adds in his description of the clothing line on the website the motto of the brand, "Knock on wood no matter where life takes you with our signature Woodhood."
In addition to storm blue, there are plenty of other hues to choose from in the line, including bone, black, navy and heather and white.
When the temps plummet, Brown offers a Woodhood to warm up to — the Retro Fish Thicc Jawn Crew — in heather described on the website as:
"Thick/sturdy cuffs that scream quality, this crew will be in your go-tos for years to come."
There is also an array of favorites always available for the classic WoodLuck "tees" in olive, mauve, black, white and an assortment of other colors. Shorts and hats are also must-haves and available for purchase online and in Stainton's WoodLuck store.
The clothing designs are inspired by the ocean and reflect Brown's ties to the Jersey Shore.
He grew up in Ambler, Pa., with his parents, Marnie and Jim Brown, and brother, Ryan, but always spent summers in Ocean City.
Brown is a 2019 graduate of Bloomsburg University, where he studied business management. It was while he was in college that WoodLuck came about and the website was launched.
Since the WoodLuck website debuted in 2018, the customer base continues to expand.
Brown partnered over the last year with businessman Bill Greene on the WoodLuck venture.
He continues to freshen the inventory to keep his loyal customers pleased with plenty to choose from, from old favorites to new items. In the process, he has also created new WoodLuck customers.