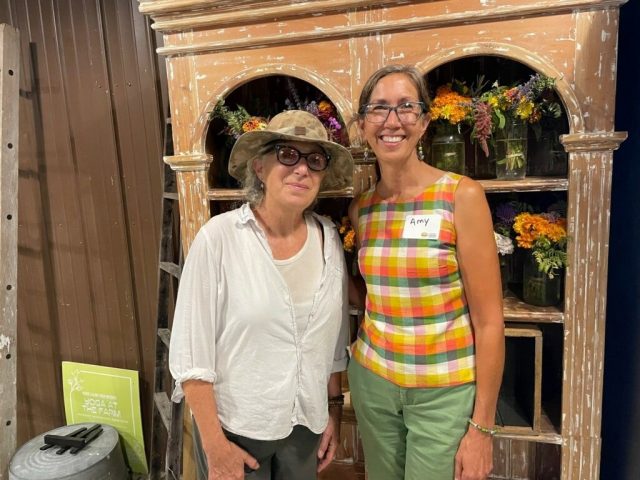 The Sustainable Jersey Atlantic-Cape May County Regional Hub event held at Reed's Organic Farm Aug. 24 focused attention on some of the innovative work being done to connect people in need with fresh, healthy foods.
About 50 green team members from Atlantic and Cape May counties attended the event in Egg Harbor Township to hear from speakers who are addressing food insecurity in New Jersey.
The event was hosted by Cookie Till of Steve & Cookies by the Bay, of Margate, who has established community gardens in Atlantic City and over the last several years turned Reed's farm into a non-profit organic farm and animal rescue. Till also runs the Margate Community Farmers Market in the parking lot at the restaurant.
"Many green teams and civic groups play active roles in helping community members access healthy food. They are growing and donating produce from community gardens and organizing farmers markets, and promoting 'Buy Fresh, Buy Local' campaigns," Hub Co-chair Ralph Cooper said. "This event introduced people to programs and resources they can leverage to do even more."
Participants began the evening with a walking tour of the farm and its greenhouses, learning more about the programs and initiatives Till and her staff have implemented there.
Jeanine Cava, co-founder of the NJ Food Democracy Collaborative, spoke about actions that can be taken at the municipal level to increase access to food.
Alicia "Lisa" Newcomb of C.R.O.P.S. (Communities Revolutionizing Open Public Spaces) spoke about the farmers markets it operates in Linwood and Atlantic City, and how it has made them more accessible by accepting Supplemental Nutrition Assistance Program (SNAP) and other benefits.
Sustainable Jersey Community Engagement Program Director Lauren Skowronski discussed the actions outlined by the Sustainable Jersey certification program for municipalities and encouraged further collaboration between the participants to increase food access in their communities.
"It's our hope that this event will inspire and support green teams to expand on work they are already doing," Hub Co-Chair Amy Menzel said.
The Atlantic-Cape May Hub was formed to bring local green teams in the two counties together to share resources and to support each other.
For more information, see atlanticcapemayregionalhub.wordpress.com.