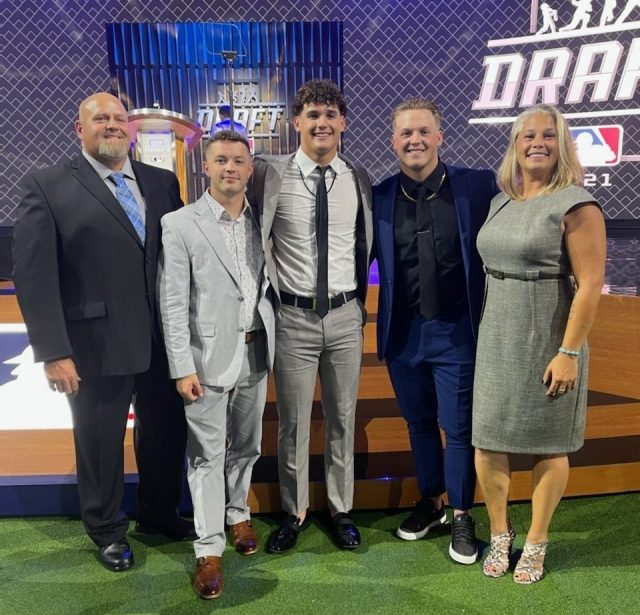 By TIM KELLY
Like most young ballplayers, Chase Petty dreamed of making it to the big leagues.
Unlike most, Petty, a hard-throwing right-handed pitcher from Somers Point and Mainland High School, came very close to achieving the dream last weekend.
The Minnesota Twins took Petty with the 26th pick in the first round of the MLB draft on Sunday and hosted him and his family for a whirlwind weekend at the draft and All-Star Game at Coors Field in Denver.
"I'm just shaking. I mean, this is incredible," Petty told the MLB Network.
In 48 2/3 innings of work for the Mustangs this spring, Petty went 5-1 with 99 strikeouts and a miniscule 1.15 earned run average. The 6-1, 190-pounder was projected to be an early draft pick, but none of the mock drafts had him going as high as he did in the first round.
"This is a dream come true and something every kid dreams of, wearing this jersey with this organization and with this fan base," Petty told MLB during its draft coverage. "I cannot wait."
The Twins are the reigning American League Central champs, but this year they are in fourth place, 15 games behind the White Sox, and like most teams, they need pitching.
Petty was among the hardest throwers among this year's crop of high school players with a fastball currently topping out at 101 mph, according to an MLB scout who spoke to reporters after the draft. In addition to his heater, Petty keeps opposing hitters off balance with a good curveball and slider.
Reached earlier this week, Petty's mom, Bonnie, said Chase and the rest of the family were "over the moon" about his selection and the VIP treatment provided by the Twins and Major League Baseball.
"We knew Chase would be drafted, but we didn't know (his draft position) for sure until about two minutes before it happened," she said. "We were pretty relaxed and having a good time. When the pick was made, we all got very excited."
Of course, the financial end of pro sports is always of interest to fans. Petty, who previously committed to the University of Florida, is projected to sign for approximately $2 million.
In addition to Bonnie and Petty's dad, Bob, his two brothers, Bailey and Logan, and his girlfriend, Brooke Albuquerque, were on hand for the festivities.
The draft represented a high point so far in Chase's baseball career and young life.
"I've had the best night of my life, honestly," he said. "There is nothing more to say."
In addition to draft and All-Star game bling, Petty and his family received an invitation to dinner hosted by his future agency attended by Manny Machado and Fernando Tatis Jr., both All-Star team members from the San Diego Padres.
It's not as if all the fanfare is completely foreign to Petty.
"Ever since he was a sophomore, we knew he had special talent and had a feeling this could happen one day," Bonnie Petty said.
Over the last few years, Petty established a friendly relationship with Millville's Mike Trout, who is considered the best position player in the game and who was drafted 25th in 2009. Trout went on to win Rookie of the Year, three MVP awards and make the All-Star team nine times as a center fielder with the Los Angeles Angels.
Trout contacted Petty prior to the draft, wished him luck and gave him some insights on what to expect, Chase told MLB.
The pair also hung out and socialized during the weekend, he said.
Nobody makes the major leagues without exceptional talent, which Petty clearly has.  However, he has worked hard to bring the talent out and to improve his skills. Mainland Coach Billy Kern was a big part of that, helping to lead the Mustangs to a 23-4 overall record and 11-1 in the Cape Atlantic National.
The Baseball Performance Academy in Pleasantville (www.thebpcsj.com) added Chase to its roster of big league-caliber talent, which includes former Ocean City High School stars Danny Nunan, Tommy Finnegan, Jake McKenna, Gannon Brady and others.
The Center offers baseball-specific training and Petty bought in early, said Center co-owner Ed Charlton, Jr.
"Chase always did everything we asked of him, and he is a great kid," Charlton said. "He is humble, is nice to the younger kids and a good (role model)."
He said Petty always had a strong arm and could throw in the high 90s. But under the direction of BPC coach and co-owner Mike Adams, Petty's velocity and control all made great strides, thus enhancing the attention he received from the pros and ultimately his draft position.
"It's great he is getting all the attention now," Charlton noted. "But he definitely did the work to get to where he is right now."