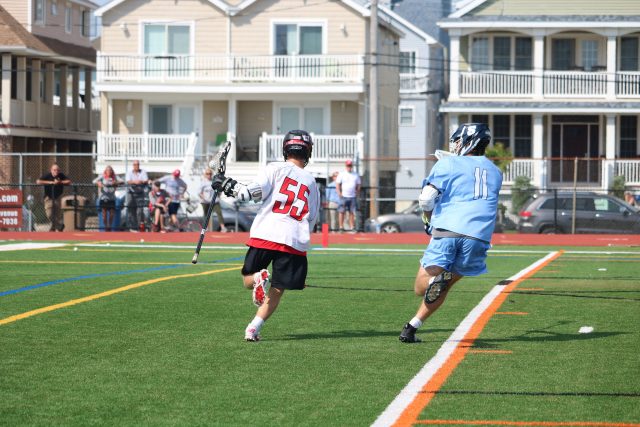 By LESLEY GRAHAM
Ocean City High School's boys lacrosse team captured its first ever South Jersey Group III championship Monday afternoon with a 9-6 win over visiting Shawnee.
The win improved the Red Raiders' record to 13-6, while Shawnee ended its season at 11-7.
Leading all scorers was Ocean City senior Jake Schneider with four goals. Freshman Pat Grimley chipped in two goals and one assist, while teammates Jack Davis, Brady Rauner and Nick Volpe each added a goal for the Red Raiders.
Ocean City got off to a quick start with Schneider scoring his first goal in the opening minutes of the game.
Shawnee would answer back to tie the game early in the first quarter. Grimley then found the back of the net to give Ocean City a 2-1 lead going into the second quarter.
Shawnee would come out in the second quarter on fire, scoring four unanswered goals to put the Renegades up 5-2. But Schneider would stop the Red Raiders' scoring drought, adding a goal before halftime to make it 5-3 Shawnee.
Ocean City was not to be deterred, though, and took the field after halftime with a renewed sense of determination.
The Raiders would go on to score six unanswered goals, wiping out the previous three-goal deficit to pull ahead 9-5 as the minutes ticked away in the fourth quarter of play.
Shawnee would chip in one more goal, but was unable to overcome the Raiders' offensive onslaught.  Ocean City would take the title for the first time in school history.
Volpe, a junior who helped to secure Ocean City's win with his goal, said he was so proud of the team.
"It's such an amazing feeling. After losing to Shawnee in 2019, we let that feeling stay with us, and we worked incredibly hard all year long to prepare for a championship game, like today's. I couldn't be happier," Volpe said.
Ocean City Head Coach Joe Latorre was elated with his team's effort.
"We have been working since day one for this opportunity, and the guys showed a lot of heart and discipline today," Latorre said. "We are going to enjoy the victory and the title and then get back to work for the state title."
The Red Raiders will take on the winner of the North Jersey Group III title game to play for their first ever state championship. The location for the June 9 state championship game has not yet been announced.