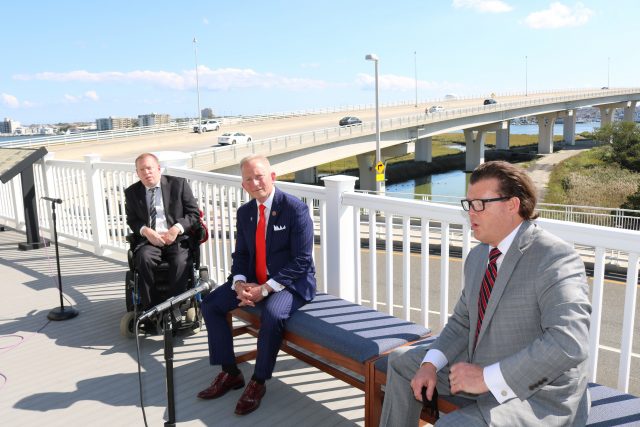 By DONALD WITTKOWSKI
U.S. Rep. Jeff Van Drew, heading into the final weeks of his re-election bid for his South Jersey district, is anxious for Congress to get a stimulus package approved to help the economy recover from the coronavirus pandemic.
However, he is frustrated with what he calls the "political gamesmanship" being played by House Speaker Nancy Pelosi.
"It's important. We need one more traunch. We need one more time where we can help people, where we can help businesses, where we can make sure this economy survives," Van Drew said of the proposed stimulus legislation.
Although he agrees with plans for another $1,200 stimulus check and enhanced unemployment benefits from the federal government, he strenuously objects to what he said are Pelosi's attempts to pack the bill with other issues that are "entirely unacceptable to most Americans."
"I think it's shameful, quite frankly, what's going on in Congress, because there's been a lot of political gamesmanship," Van Drew said.
"There are some bills that are basically good in dealing with the stimulus. I have to be just really honest here and I have to be really candid in saying the speaker has thrown in other pieces to it which are just entirely unacceptable to most Americans, to most of Congress," he added.
Van Drew, a former Democrat who switched to the Republican party late last year and aligned himself with President Donald Trump, met Monday with Ocean City elected officials to accept their formal endorsement for his re-election against Democratic challenger Amy Kennedy.
Ocean City Council President Bob Barr said Van Drew has built up relationships over the years that will benefit his South Jersey congressional district, including securing federal grants for local projects.
Barr also praised Van Drew for an ability "to reach across the aisle" while working in bipartisan fashion on key issues and legislation benefiting New Jersey and his district.
"He gets it done and that's why it's so important," said Barr, who is a close ally of Van Drew.
In a wide-ranging interview with MediaWize, the publisher of OCNJDaily.com, SeaIsleNews.com, SomersPoint.com and Downbeach.com, Van Drew touched on a number of issues affecting his district and the entire country.
Much of the interview focused on Van Drew's desire for Congress to agree on a stimulus bill that will provide economic relief for Americans who have struggled financially or lost their jobs during the pandemic.
Van Drew said he wants to see legislation that will "do more to help with vaccinations, do more to help with education, do more to help with medications and the different things that can be done to really stem this disease."
Republicans and Democrats are battling over the final details of the stimulus package. In another development, President Trump said Tuesday that he has instructed his top aides to stop negotiating with Pelosi on future coronavirus stimulus legislation until after the November election.
Van Drew criticized Pelosi, a Democrat, for what he said are her attempts to add facets to the bill that are wholly unrelated to the stimulus package, including provisions for undocumented immigrants, sanctuary cities, prison reform and proposed climate change legislation called the New Green Deal.
"The problem is, the speaker also puts in there things like cities that are going to be open to illegal, undocumented citizens, which are called sanctuary cities, or sanctuary states, or sanctuary counties. That's got nothing to do with this," Van Drew said of the stimulus package. "She puts in the New Green Deal in there. It's going to be bad for South Jersey. That's got nothing to do with what we want to do here."
He continued, "Unbelievably so, in that bill was put in the desire of the writers of the bill to allow federal prisoners to be released even if they were violent criminals, including murderers, rapists and dangerous people. This is unbelievable."
Van Drew noted that he is opposed to sanctuary cities, but stressed that he supports immigrants who legally come to the United States.
"We are a nation of the rule of law. I love immigration. Almost all of us, the vast majority of us, are immigrants of some type. We came over here. My great-grandparents came over here," he said.
However, he said the U.S. border must be protected from illegal immigration to help keep the country safe. He also said illegal immigration takes a toll on the U.S. economy, taxes and housing.
"It costs a fortune," he said.
In seeking to draw distinctions between him and his election opponent, Van Drew portrayed Amy Kennedy as someone who "lurched to the left."
Kennedy is a former teacher who lives in Brigantine and is married to ex-U.S. Rep. Patrick Kennedy, who served seven terms in Rhode Island from 1995 to 2011. Van Drew said Amy Kennedy is someone who believes in open borders and sanctuary cities and that South Jersey would be a much more "tumultuous" place if she is elected.
In a key election issue, Van Drew said he still wants voters to be able to go to the polls instead of largely conducting the election by mail-in ballots amid the pandemic.
He said he supports the normal procedures for mail-in ballots. Traditionally, mail-in ballots allow voters to vote when they are absent during an election and are closely scrutinized to make sure they are proper, he said.
But in this election, all active registered voters are receiving mail-in ballots. Van Drew is concerned with the possibility of election irregularities involving so many mail-in ballots.
If voters go to the polls, most of them won't be allowed to use the machines. Instead, they will have to complete a paper ballot to vote at the polling places. Only people who have disabilities will be permitted to use the machines, election officials say.
Proposing a compromise, Van Drew suggested that half of the voters should be able to go to the polling places on the Monday before Election Day. The remaining half would vote on Election Day at the polls, he said. He believes that two days of voting would allow for social distancing because the polling places would not be overcrowded.
"People want to vote directly," he said of voters going to the polling place.
Van Drew also is anxious to see New Jersey fully reopen its economy in the wake of the pandemic. He believes Gov. Phil Murphy could have done a much better job in gradually reopening key segments of the economy, including restaurants and gyms.
Central to his campaign, Van Drew is stressing the theme of a "strong America." Along those lines, he opposes efforts to defund the police, an issue that is being debated amid the national reckoning on race relations.
"Let me be really clear. I stand with our police, period, because the majority of them are willing to prevent bad things, in very simple English, from happening to us," he said.
Van Drew said he has spoken to people of all races in South Jersey who made it clear to him that they don't want to see the police defunded.
"When I go to Atlantic City and I speak to black people, white people, Asian people, Bangladeshi people, do you know what they all say to me? We need more police, we need more protection," he said.
Van Drew's call for a "strong America" also includes what he believes should be a plan to ramp up the economy by protecting the U.S. supply chain and intellectual property instead of having to rely on China for such things as personal protective equipment amid the pandemic.
"It truthfully did come from China," he said of the virus. "That doesn't mean that we hate Chinese people, but their government, the Communist government, is a different story. It's serious business and it's something we have to deal with and look into."
Van Drew also emphasized that he wants a strong U.S. military and hopes that the United States will become the world's No. 1 energy producer, as well as the global leader in education, the environment and manufacturing – all part of what he calls "American exceptionalism."
"Do you know what America is? It's a No. 1 country," he said. "It's the country that Ronald Reagan talked about being the shining city on the hill, that beacon of light that everyone can really follow and really sends out goodness and safety. That's what America can be."