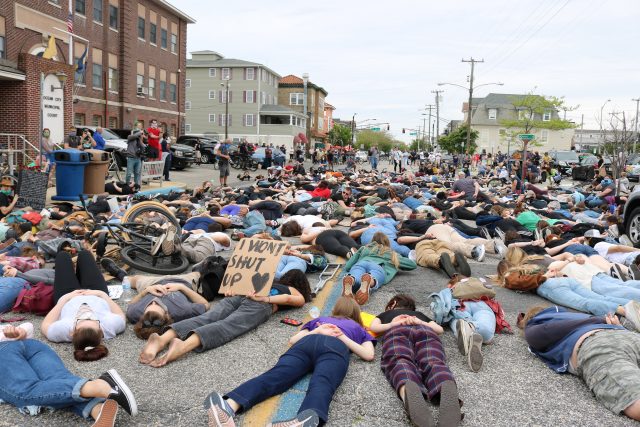 By MADDY VITALE and DONALD WITTKOWSKI
For nearly nine minutes, George Floyd laid on the ground, while a Minneapolis police officer kneeled on his neck until the 46-year-old man was dead.
Some of Floyd's last reported words since the May 25 killing were said to be "Momma" and "I can't breathe."
The brutality of the killing has resonated with the country as demonstrations throughout major cities continue. Protesters in peaceful and some not-so-peaceful demonstrations are serving as a message to law enforcement and communities as a whole that racism must stop.
On Tuesday, peaceful protesters took to the foot of the Route 52 Causeway on the Somers Point side and made their way over the bridge to Ocean City, making the last stop at the city's police headquarters.
Re-enacting Floyd's last moments of life, hundreds of protesters kneeled, then laid face down on the street in front of the police department, for the eight minutes and 46 seconds that since-fired Minneapolis officer Derek Chauvin kneeled on Floyd's neck before the man died.
Devonte Oglesby, 23 of Woodbine, stepped into a circle, where others took turns stating why it was so important to attend the rally Tuesday.
Oglesby said that he has made it his life's mission to stand up for what he believes in.
"I have always spoken out. I feel I have to. I have black friends. I have white friends," Oglesby, who is African American, said in an interview. "This is something to show people why we need to speak out. We all need to stand up. We will all benefit."
Ocean City Police Sgt. Tyrone Rolls and Lt. Pat Randles joined Oglesby and other marchers in the circle to show support. Rolls and Randles spoke to the crowd.
"I get it in uniform. I get it out of uniform," Rolls, who is African-American, said of some feelings of racism. "We have to dig deep and accept. Until we do that, we are bound to fail. Black, white, Asian, it doesn't matter. Learn history and get to know the real truth. We can't keep repeating errors. We have lost too many lives."
With that, Rolls hugged Oglesby.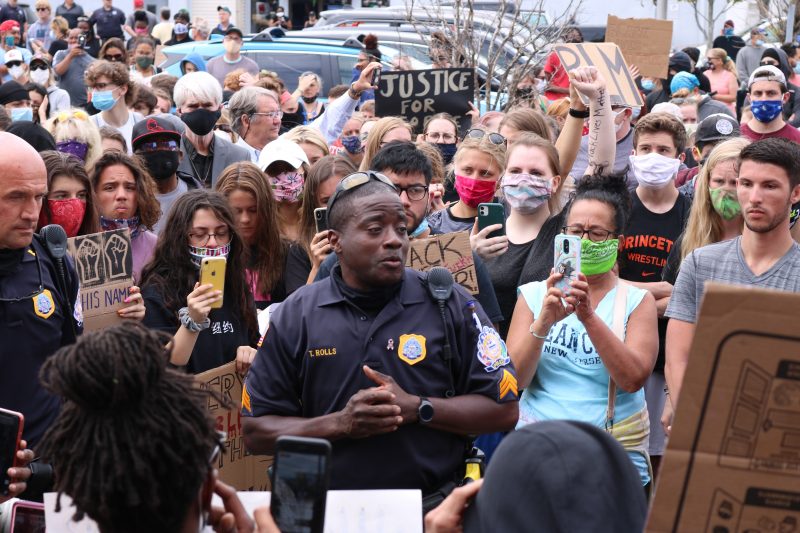 Randles told the crowd that the police department appreciated the marchers.
"We want this to be a game-changer," he said.
Some people participated; others watched from the stairs of the police headquarters.
Ocean City Mayor Jay Gillian and City Business Administrator George Savastano watched the rally unfold.
Gillian said in a statement after the event, "It was an example of how different people can come together to send an important message. I could not be prouder of how our community and the police handled themselves, and I was glad to see Sgt. Tyrone Rolls and Lt. Pat Randles join the proceedings to offer their perspectives."
On the Somers Point side, some businesses boarded up their storefronts, and the same thing was done on Asbury Avenue in Ocean City just in case looting might occur, as it had in Atlantic City a couple of days before.
Officers from both towns remained on high alert in case of any situations arising later in the evening.
Near the end of the rally, one marcher began to chant, "It doesn't end here," which was quickly followed by a chorus of supporters.
Just an hour earlier, people honked their horns as they drove over the causeway in support of the marchers, who held signs high for the motorists to see. Some of the signs  said "Black Lives Matter," "Fight Racism" and "I Can't Breathe."
The procession began quiet, almost solemn.
Ample police presence was on both sides of the bridge. Spectators watched from the Somers Mansion across the highway.
Hayden Wathen, 16, of Ocean City, wore a face covering with the initials BLM for "Black Lives Matter."
"I am a white person. I have never experienced what some black people have experienced. This has gone on too long," Hayden said of racism.
Hayden was joined by his friend, Alana Healy, and her mother, Bridget, both from Egg Harbor Township.
"I certainly recognize white privilege," Bridget Healy said. "We are out here to show support for everyone."
Some people came with a group of friends, while others came by themselves because they were compelled to make a statement, with or without anyone by their side.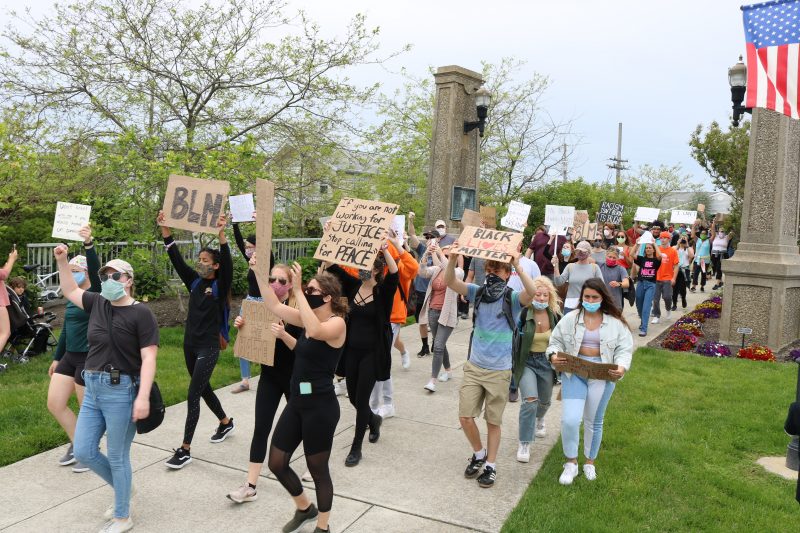 Maggie Gurley, 22, of Atlantic City, chose to come alone to the protest and said she will continue to go to the rallies because she feels so strongly in the message.
She held her sign up for motorists traveling over the causeway to see. It read: "We're Not Trying to Start a Race War. We are Trying to End One."
She said now, more than ever, is the time to stand up. "I think it is the most important thing we can do right now," Gurley said.
As marchers made their way down the bridge, they were greeted by fellow protesters on the Ocean City side.
Joselynn Bradshaw, 20, of Danville, Va., was with her friends Aladdin Arbab, 22, of Egg Harbor Township, and Juliana Crecelius, 20, of Turnersville.
The three displayed their signs and Bradshaw explained why they felt they should be at the protest.
"We are overwhelmed," Bradshaw said. "I feel there is a lot of police brutality. We have to respond to say, 'No more.'"