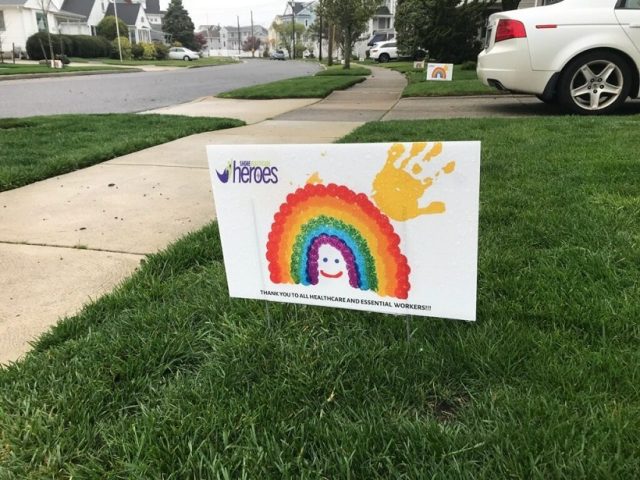 By MADDY VITALE
An idea to help frontline workers sprouted, well, popped up in a way, between neighbors in Ocean City and nearby communities.
Lawn signs began dotting the front yards in the community and surrounding towns in a fundraiser to help healthcare workers and other frontline staffers at Shore Medical Center who are treating COVID-19 patients.
What started out as a modest, grassroots effort by spouses Chris and Andrew Monihan and Julie and Christian Bickings, who run a food donation program called Shore2Share, took off.
More than 300 signs have been sold in just a few weeks and $15,000 has been raised for Shore Medical Center's COVID-19 Fund, Chris Monihan pointed out.
The signs are available for sale for a donation of $25 each by clicking https://mailchi.mp/2e6b60ba87d0/shoremedicalcenter-yardsignupdate2-4680549. All of the proceeds go to the COVID-19 response at the hospital in Somers Point.
"Each and every person who has purchased a sign has helped by spreading the word and allowing this fundraising campaign to grow. It has been a very encouraging and heartwarming fundraiser, where we have seen an outpouring of support and generosity," Chris Monihan said.
He continued, "Aside from the money raised, which is great, people seem to be excited to show off their yard signs and to add to our communities in a positive way."
While it was his idea for the fundraiser, Chris said much of the success can be attributed to the generosity of people in Ocean City and the surrounding communities.
"I have gotten calls and emails from many people who reside locally, as well as from out-of-state residents who own a second home down here and want to donate and have a sign displayed at their property even though they may not be living there currently," he added.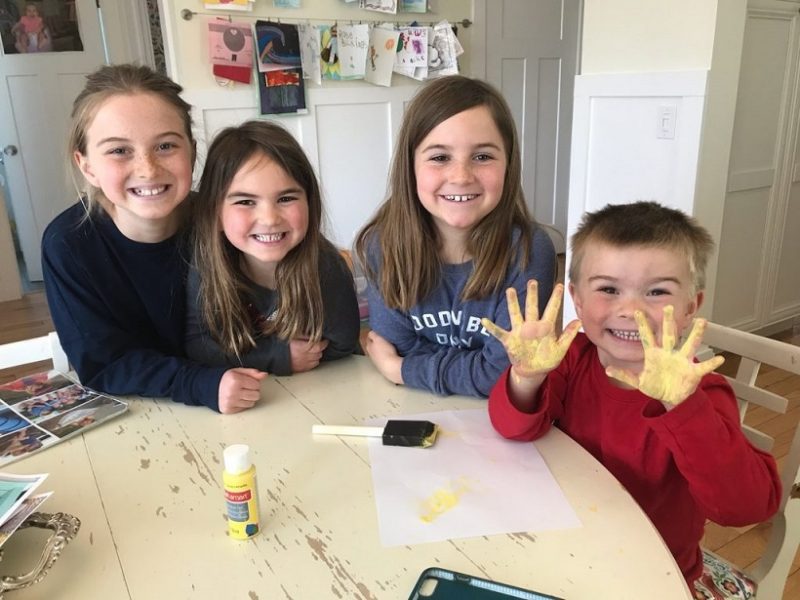 The sign's design is simple: A rainbow, with a smiley face and a handprint. The rainbow and the child-like design symbolize hope that the healthcare workers will help see everyone through, Julie Bickings explained.
Even the couples' children got involved. Caroline Bickings, 10, and her siblings, Alice, 8, Rose, 6, and Johnnie, 3, helped as well as Renee Monihan, 2, while her infant sister, Marin, watched, Chris said.
Shore Medical Center gives reports on how much money has been raised and the couples and their friends deliver the signs directly to the yard of the person donating, while practicing social distances.
Chris noted that they have made deliveries in several communities in both Cape May and Atlantic counties and are hoping to continue to do so in the upcoming weeks.
While the couples originally hoped to raise $5,000, they doubled that and then some.
Now, they are hoping to reach a larger goal.
"There are a lot of empty yards out there and a lot more money we could raise for Shore Medical Center," Julie said. "We have sold so many, but the potential for sales is so much more."
She added why it is so important to help out the local hospital staff.
"This is the hospital serving our community and we want them to have the resources they need. It is already an unimaginable stress for healthcare workers to see COVID every day," Julie said. "If we can help provide them with resources to relieve a tiny bit of that, then we will keep planting rainbows in yards until this is over."
For more information contact Chris Monihan at 609-602-3336 or email him at cmonihan@monihan.com.