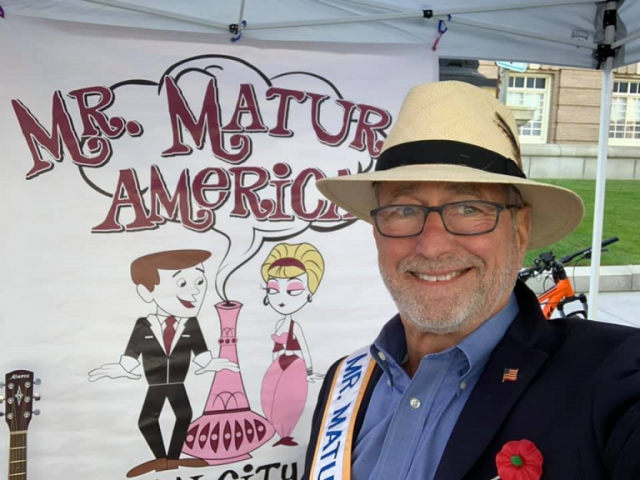 By TIM KELLY
Being the type of guy who "never takes myself too seriously," Jack Merritt answered a question about his year of holding the title of Mr. Mature America with a quip.
"It's been the most fun I've ever had with my clothes on," Merrritt said.
The reigning winner of the zany pageant-style Ocean City competition for men 55 and older says his successor is in for a similar thrill-packed ride.
"People stop me at events and chat, I get to come to Ocean City more often than I normally would, and I've made many new friends. It's been great," he said.
For Merritt, a consultant and private pilot from West Grove, Pa., who owns a summer home in Ocean City, the ride will end on Saturday, April 18, at the conclusion of the 7 p.m. event at the Music Pier.
Just as he took the honors from 2018 Mr. Mature America Bill Quain, Merritt will relinquish them to a successor to be crowned by former "Brady Bunch" star and emcee Barry Williams.
Along with bragging rights, a trophy, crown, sash and a ham, comes the role as one of the most visible ambassadors of Ocean City during events in town.
Prospective entrants should check out the online entry form available at www.ocnj.us/mrmature or call Michael Hartman at 609-525-9284 for more information. Deadline for sign-ups is March 15.
"I would recommend for you to take part in it," Merritt told a reporter of a contemporary age. "It's something you'll always remember."
Merritt, who is 70, said he entered at the gentle prodding of his wife, Julia Altman. Comparing their family to that of Williams' TV fam, the couple are part of a blended group that includes six children from their previous marriages and dozens of friends.
"During the show, (Merritt's supporters) held up placards with my face on it, and made a lot of noise," he said, laughing.
The scene was typical of the event, which is held in the tongue-in-cheek tradition of its brainchild, former Ocean City public relations guru Mark Soifer.
Like Merritt, the other contestants had large numbers of supporters on hand to lend moral and verbal support to their favorites, making for a rollicking evening of fun, music and laughs.
As much fun as it was performing on stage, answering emcee Barbara Eden's interview questions and bonding with the fraternity of fellow MMA hopefuls and previous winners, Merritt says the best moment may have come afterward when he felt a tug on his sleeve. He looked over and the person trying to get his attention was none other than Eden, former '60s TV star of "I Dream of Jeannie" fame.
"I'm standing there like a deer in the headlights and here is an early fantasy woman of mine asking to have her picture taken – with me," he said with a shocked tone that still hasn't worn off.
It was at that moment he realized what a big deal it was to be Mr. Mature America.
Merritt said he survived the talent portion without winning, for his rendition of the Van Morrison classic "Brown Eyed Girl."
"I did all right with my guitar playing," he allowed, "but not so well with my singing."
He scored big with the judges during the interview segment. Merritt used the pageant as a platform for his animal rescue program, Pilots and Paws, which he runs out of his small farm in in Pennsylvania.
With the aid of about 80 volunteers, the program saves the lives of approximately 450 animals a year, he said.
Merritt said he never expected to win the contest, and a bigger shock came a few days later when a city official furnished him with a sheet listing the numerous events he would be asked to attend as Mr. Mature America.
"I love a good parade," he said, and Ocean City gave him the chance to appear in several. "It's kind of neat when the car rolls by and you look at people and you feel they are thinking, 'Who is this guy?' and then they see the (sign) on the car door. They light up and start yelling out to me. It's quite a feeling."
As for the busy schedule of events, it is a pleasure to give back to a town that he has enjoyed for decades, Merritt noted. He invited the public to check out his Facebook page that details many of his activities during the reign: https://www.facebook.com/MrMatureAmerica2019/?epa=SEARCH_BOX
"My wife might be a little bit glad (the reign) is coming to an end," he said. "For me, it has been an exciting and very rewarding experience."