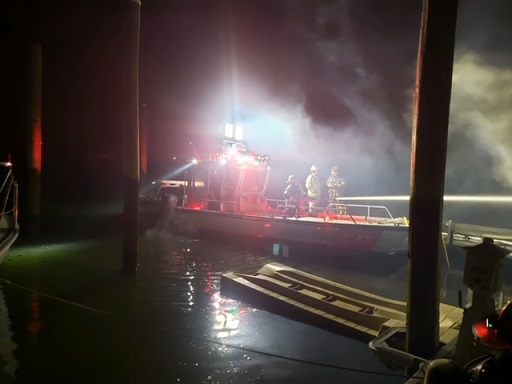 By NANETTE LoBIONDO GALLOWAY
Two large boats docked at Seaview Harbor Marina on Longport Boulevard in Egg Harbor Township were destroyed by a fire during the early morning hours Monday and sank into the Great Egg Harbor Bay.
According to Longport Volunteer Fire Department Chief Levon "Lefty" Clayton, the fire call came in at 1 a.m. Longport was the first fire department to respond to the scene.
The Egg Harbor Township Volunteer Fire Department is investigating the cause of the fire. Chief Rob Winkler was not available Monday morning to provide more information about the blaze.
Clayton said the two boats docked at F Dock were engulfed in flames when Longport firefighters arrived at the scene with an engine-pumper, ladder truck and utility vehicle.
"We were there until about 5:30 a.m. Both boats sank," Clayton said.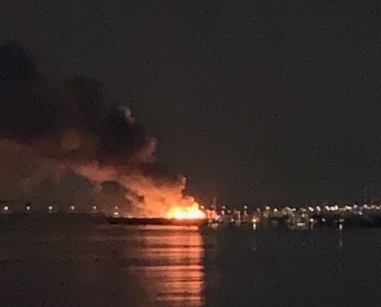 A dozen Longport volunteers were joined by firefighters from all five Egg Harbor Township volunteer fire departments – Bargaintown, Cardiff, Farmington, Scullville and West Atlantic City – in battling the blaze on land and in the water, he said.
The Margate City Fire Department, N.J. Air National Guard and N.J. State Marine Police also assisted. The Somers Point Volunteer Fire Department covered the Longport station.
Clayton said the boats were 40- to 50-footers.
The U.S. Coast Guard has responded to the discharge of diesel from the two submerged vessels. Watchstanders at Coast Guard Sector Delaware Bay estimated that about 2,000 gallons of diesel fuel could enter the water. There have been no reports of impacts to wildlife at this time, the Coast Guard said in a statement.
"Our pollution investigators are on-scene and overseeing commercial cleanup operations," said Chief Petty Officer Christopher Brady, command duty officer at Coast Guard Sector Delaware Bay. "Our goal is to ensure safe operations and to help mitigate environmental impacts resulting from the discharge."
A salvage plan is currently being drafted for approval by the Coast Guard.