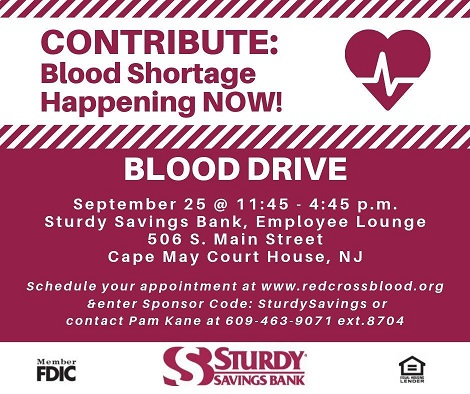 Sturdy Savings Bank will host its semi-annual Blood Drive on Wednesday, September 25 from 11:45 a.m. to 4:45 p.m.
The drive will take place at the bank's corporate office, located at 506 Main Street in Cape May Court House, in the employee lounge. The bank invites anyone interested in donating blood during the drive to sign-up online at www.redcrossblood.org and enter Sponsor Code: SturdySavings; or contact Pam Kane in Human Resources at 609-463-9071 ext. 8704.
Thanks to the more than 30 blood donors who participated in last year's fall Red Cross Blood Drive, the bank exceeded its goal with 29 pints collected. Bank President Gerald R. Reeves participates in nearly every drive and is designated by the Red Cross as a "Multi-Gallon Donor."
"We are proud to provide an opportunity for our employees and the public to donate blood for the Red Cross. This important drive and others like it help the Red Cross to ensure that lifesaving patient care isn't impacted by blood shortages," Reeves said in a press release.
Sturdy Savings Bank serves Cape May and Atlantic Counties at 14 branches located in Avalon, Cape May, Cape May Court House, Dennisville, Marmora, North Cape May, North Wildwood, Ocean City, Rio Grande, Somers Point, Stone Harbor, Tuckahoe, and Wildwood Crest.
Each of Sturdy's branches consider the communities in which they are located their homes, and are dedicated to see those areas succeed. The bank often donates to local organizations, and supports schools because it values the development of the youth in the communities it serves.
For more information about Sturdy Savings Bank, visit www.sturdyonline.com or call 609-463-5220.
Sturdy Savings Bank, Member FDIC is an Equal Housing Lender.