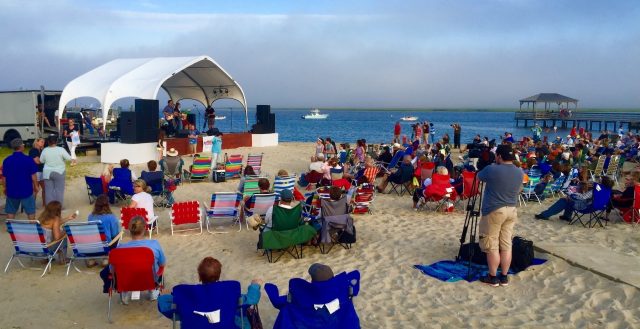 Somers Point celebrates summertime with its 27th Annual AtlantiCare Concerts on the beach. 
All concerts take place on William Morrow Beach on Bay Avenue starting at 7 p.m. and are free to attend.
To celebrate the Fourth of July at the Somers Point's 27th Annual AtlantiCare Concerts on the beach, there will be a special Thursday, July 4 concert.
A Sunday, Sept.1 Labor Day Weekend Show will also take place.
On Thursday, July 4, a Fourth of July Spectacular features Billy Walton's Jersey Shore Rock and Soul Revue, starring Michael "Tunes" Antunes from Eddie & The Cruisers. Also performing is Rock & Roll Hall of Famer Vini "Mad Dog" Lopez from Springsteen's E Street Band, and the Billy Walton Band.
On Sunday, Sept. 1, a special Labor Day Weekend Holiday Show will feature three-time Grammy winner Tom Hambridge. Hambridge produced and recorded with BB King, Buddy Guy, Rascal Flatts, Lynyrd Skynyrd, Tedeschi Trucks Band, and is a New York Hall of Fame inductee. For more information, visit www.hambridgetunes.com.
The impressive 27th annual line-up of Friday night summer concerts is as follows:
June 28: Grammy Nominated Victor Wainwright and The Train. From Southern Hospitality to Boogie Woogie Rock & Roll.
July 5: Eagles Country tribute to the Eagles. Hawkins Road Allstars with special guests: Dan Burke, "Big Bob" Ernano, Rosie O'Reilly and Heather "Lil' Mama" Hardy.
July 12: Blues Foundation Hall of Famer Joe Louis Walker and The Deck Band. Joe Louis Walker has received four Billboard Music Awards and 52 nominations. The Deck Band is a high-energy party band covering all the hits from the 50's, 80's, 90's to current Pop, Dance, Classic Rock, Motown, R&B, Country and Oldies. www.deckband.com.
July 19: "Jumpin' Johnny" Sansone and Dana Fuchs. Sansone is a multi-Big East and Billboard Music Award-winning singer/songwriter, and Dana Fuchs is a roots rocking Golden Globe Nominated Star of Broadway & Movies. For more information, visit www.johnnysansone.com.
July 26: Will Power. Tribute to Tower of Power and the hit songs What is Hip?, Down to the Nightclub, and Still A Young Man.
August 2: Multi-Grammy Award-Winning Phantom Blues Band. Premier appearance by one of the world's greatest ensembles, who have performed with Joe Cocker, Bonnie Raitt, BB King, Etta James, Jimi Hendrix, and Taj Mahal. For more information, visit www.thephantombluesband.com.
August 9: The Jeremiah Hunter Band. Featuring original members of The Soul Survivors and Full House. For more information, visit www.kennyjeremiah.com.
August 16: New Orleans' Funky Brassy Rock of Bonerama. Performing a Led Zeppelin Tribute and New Orleans Funk & Party Classics.
August 23: Major national headliner TBA on Tuesday, July 9.
August 30: "BEGINNINGS." A world-class tribute to Chicago, this is BEGINNINGS premiere performance at the Somers Point Beach Concerts.
Sept 6: CJ Chenier & The Red Hot Louisiana Band; The Dane Anthony Band. Multi-Award Winning Living Legacy of Louisiana Zydeco. The Dane Anthony Band is a top Northeast party dance band. For more information, visit www.daneanthony.com and www.officialcjchenier.com.
Attendance is free to the public, and there will be limited snacks and non-alcoholic beverages available for purchase at each concert. In the event of inclement weather, concert venue changes or cancellations will be posted to the Somers Point Facebook page at www.facebook.com/somerspoint.
For more information, visit www.somerspointbeachconcerts.com.