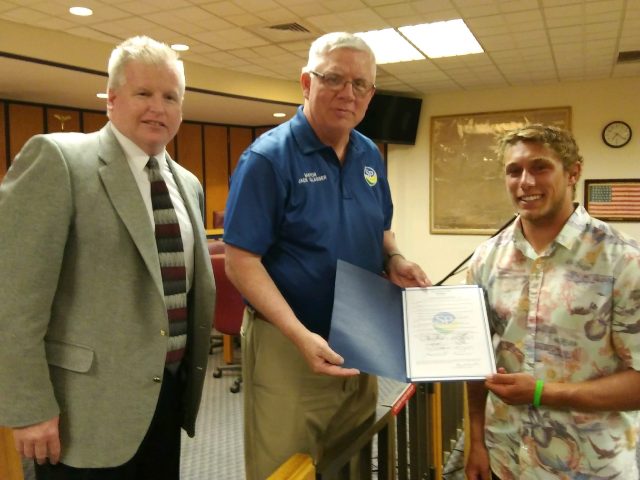 Somers Point Council President Sean McGuigan will be honored by the Mainland Regional Education Foundation May 16 during its Community Counts annual dinner at Linwood Country Club.
McGuigan was selected as a "Community Difference Maker."
A resolution passed by the Somers Point City Council details some of McGuigan's accomplishments, which highlight his civic-minded activities.
He has demonstrated his commitment to and love for Somers Point through his devotion to volunteerism.
"Sean exemplifies this in many ways through his work with the Somers Point Little League Baseball, the Somers Point Sharks Football Team and the city's street hockey program," the resolution states.
McGuigan has also been the chairman of the Good Old Days Festival for the last 18 years. The festival was established in 1979 in memory of Bud Kern's legacy of volunteerism and supporting the community. The festival raises money for youth scholarships.
In addition to those activities, McGuigan volunteered for the Somers Point Historical Society, was Volunteer of the Year for the City in 2001, and is former chairman of the Somers Point Recreation Commission.
"He further demonstrates his commitment to the youth of the community by serving on the Board of Trustees of the Court Appointed Special Advocates (CASA) for children that have been neglected and abused from Atlantic and Cape May counties, ensuring their well-being," according to the resolution.
McGuigan has given the "gift of time, leadership and experience" and is a "perfect role model inspiring those who are willing to give of their time, their effort and their support to make our city a better place to live, work and play," the resolution states.
The resolution continues, "The mayor and City Council wish to extend their thanks and appreciation to Sean McGuigan and his family for their willingness to share Sean and support his contributions of time and effort for the benefit of our entire community."