By Maddy Vitale
Somers Point Mayor Jack Glasser says he has a lot more he wants to accomplish in the town where he and his wife, Diane, raised their two children.
He announced he is running for a fourth term.
"I am proud to announce that I will be seeking a fourth term as the Mayor of the town that I love, Somers Point," Glasser told his supporters on his Facebook page. "We've accomplished a lot over the past 12 years, but there is more work to do."
He noted he is "as energized and committed to the betterment of this city as when I was first elected to as Mayor in 2007."
Glasser will be running on the Republican ticket with First Ward Councilman and Council President Sean McGuigan and Mike Owen, an active member of the community stepping in to run in Second Ward Councilman Dennis Tapp's seat. Tapp chose not to seek re-election to spend more time with family.
Glasser, who retired as captain of the Northfield Police Department in 2002, said he is proud to be running on the same slate as McGuigan and Owen.
He noted that McGuigan runs the Council meetings well and listens to his fellow Council members as well as the public. He added that Owen is very active in recreation in Somers Point.
"I've been the mayor for the last 11¼ years in a town I grew up in and love," Glasser said. "We have done so much over the past 11 years. I want to continue this progress to make things better for the residents."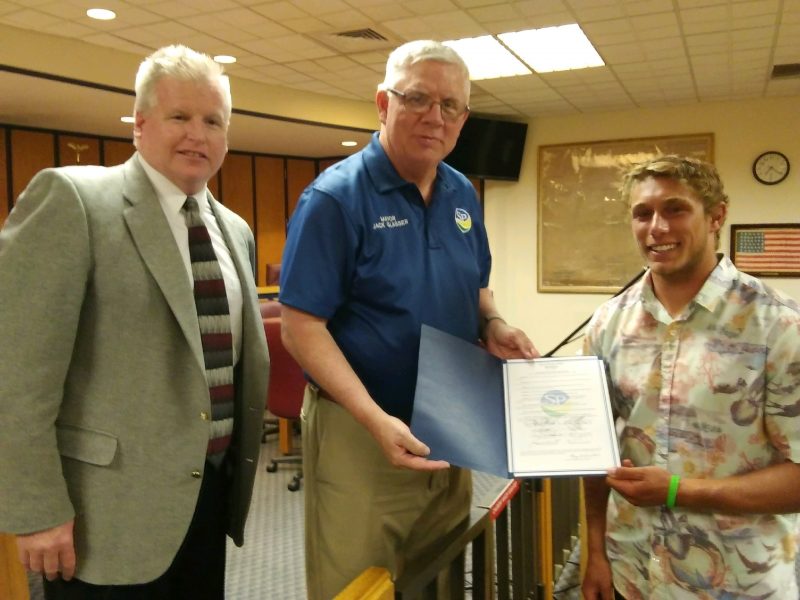 Glasser touted the work of the city to bring the city marina project to fruition through the use of grants. Dredging is completed and officials hope to have everything ready for visitors and residents to enjoy by Bayfest in the spring.
"The marina was made up for the most part of grants as was the bike path, defraying costs to taxpayers," he said.
Another major project he said he was ecstatic about being done on his watch was the opening of the Gateway Theatre.
"It is such a success for Somers Point. The marina will be right there. Those are things to be proud of," Glasser said. "We have beach concerts, the arts, these are things that make Somers Point great and I want to continue to keep being the mayor of this great little town."
Glasser officially filed his petition with the City Clerk's Office Friday afternoon.
He summed up his reason for running.
"Being mayor is not just a few minutes a week," he said. "It is the responsibility of the elected officials to take care of the things that are going on, and also build on the future of the community," he said.
Glasser continued, "You need the foresight to see that there are things now that will help generations to come after us. That is why I am so proud to be a part of city government. We are working together to ensure that the residents get the best services that we could provide."