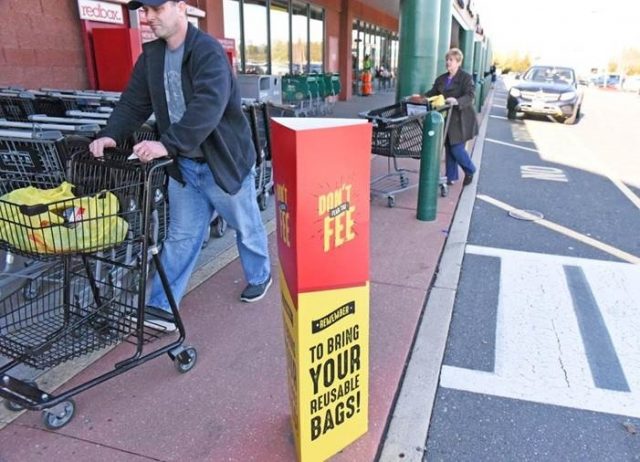 A survey conducted by Stockton University students suggests that consumer behavior has shifted for the shoppers of ShopRite in Somers Point as a result of the new single-use plastic bag fee that was implemented by City Council in January.
The bag ordinance requires retail stores to charge a 5-cent fee for each single-use plastic bag used by the consumer.
A group of Stockton students surveyed shoppers at the Somers Point ShopRite to determine if the bag fee inspired people to use reusable bags when shopping, or if they would continue to use plastic bags.
There were 172 shoppers who participated in the survey, which revealed only 7 percent of consumers were still using single-use plastic bags, with 60 percent using reusable bags and 33 percent not using any bags at all.
When asked the reason why they were not using plastic bags, over 50 percent of shoppers specifically mentioned the bag fee as the reason they switched to a reusable bag or chose to go bag -free.
Haley Vernon, a Stockton sustainability student and the leader of the survey team, said, "Based on studies and surveys conducted in regions that had implemented similar bag fee structures, we expected that 20 percent of people would still be utilizing single-use plastic. The fact that only 7 percent actually continued to use plastic was really encouraging."
Vernon and her team intend to conduct similar surveys at the ShopRite locations in Egg Harbor Township and Marmora to compare the results.
"We expect conducting surveys in stores in nearby communities that have not implemented a bag fee ordinance will reveal data that will further prove the effectiveness of the Somers Point ordinance," she said.
Somers Point Councilman Ron Meischker, who spearheaded the push for the bag fee, applauded the survey's findings.
"The intent of the fee structure was to dissuade people from using single-use plastic bags," Meischker said. "This survey shows that the ordinance has been effective in doing just that."