The Sustainable Jersey Board of Trustees has named two leaders in the sustainability movement as February's Sustainability Heroes.
Atlantic County Utilities Authority Chairman Rick Dovey and former Lawrence Township mayor and orchard owner Pam Mount were recognized this month for helping to form and grow the sustainability movement in New Jersey. Mount served as chairwoman of Sustainable Jersey from 2012-2015 and Dovey was board chairman from 2015-2018.
Dovey, who has been president of the ACUA for more than 27 years, oversees a $60 million budget for wastewater treatment, trash collection and recycling for 14 Atlantic County municipalities.
During his tenure as chairman, Sustainable Jersey hosted the first New Jersey Sustainability Summit and launched the Sustainable Jersey Gold Star Standards. The number of schools certified by Sustainable Jersey for Schools grew from 59 to 243.
Dovey said the grassroots movement has empowered local environmental leaders to champion plastic bag legislation, which he called an important issue to the community.
"Sustainable Jersey created a structure for the towns to work together to bring this issue to the state level," he said.
Dovey is a member of his hometown green team, SustainableEHC and the Atlantic Cape May Sustainable Jersey Hub.
Under his leadership, the ACUA has been nationally recognized for excellence in innovation, efficiency and environmental stewardship. As a strong proponent of renewable energy and sustainability, he initiated many of ACUA's green projects, including landfill gas utilization, 500-kilowatt solar installation, compressed natural gas station, New Jersey's first wind farm at ACUA's Wastewater Treatment Facility in Atlantic City and the state's first storage battery project.
He is treasurer of the Atlantic County Economic Alliance, supervisor of the Cape Atlantic Conservation District board, chairman of the Egg Harbor City Industrial Commission, and member of the foundation board of Stockton University, where he received a bachelor's degree in urban studies. He is also a member of several advisory boards at Stockton University, Rowan University of College of Engineering, Atlantic Cape Community College and Atlantic County Institute of Technology.
Dovey was a member of the first graduating class at Richard Stockton College, referred to as the Mayflower students, because the school was located in the former Mayflower Hotel in Atlantic City.
He has always been drawn to the natural environment and credits time spent as an active Boy Scout in his home town of Edgewater Park in Burlington County as the inspiration that led him down the path of sustainability.
"Sustainability is more important than ever," he said. "There is definitely a movement growing in New Jersey thanks to Sustainable Jersey. I am proud to have been a part of it and look forward to continuing to work toward the goal of a more sustainable New Jersey."
He lives in Egg Harbor City with his wife Mary. They have three grown children, Kate, Luke and Scott, and a new granddaughter.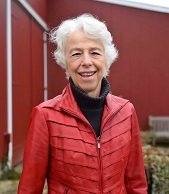 Pam Mount of Lawrence Township
As chairwoman from 2012-2015, Mount was an energetic force in moving the organization forward, including formation of regional hub group and the Sustainable Jersey for Schools launch. She was mayor of Lawrence Township from 2001-2005 and served on the town council for 12 years.
In addition to her public service work, Mount owns and operates Terhune Orchards with her husband Gary, where she has hosted farm-to-table dinners to promote awareness of sustainability and raise money for Mercer County green teams.
Sustainable Jersey was launched in 2009 as a partnership between The College of New Jersey, the New Jersey League of Municipalities, the New Jersey Department of Environmental Protection and the New Jersey Board of Public Utilities. In 2012, Sustainable Jersey evolved into a separate non-profit organization with a board of trustees.
Read more at SustainableJersey.com.