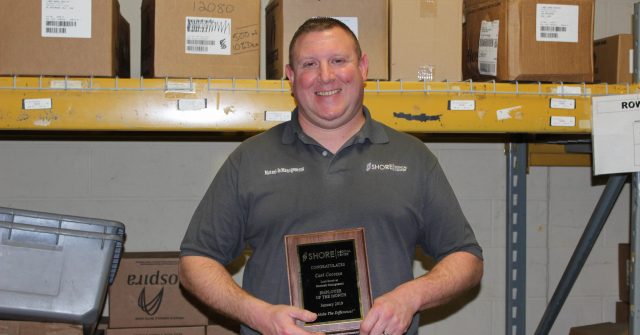 For consistently delivering outstanding person-centered service and embodying Shore Medical Center's mission, vision and values, Shore named Carl Cocozza, lead receiver in its materials management department, the medical center's January 2019 Employee of the Month.
Cocozza joined the Shore family in 1991 and worked in nutrition services and as an orderly before joining the materials management team in 1998. An ultimate team player, Cocozza is always ready to do what is necessary in behalf of his team.
Bob Robertson, administrative director of logistics, says Cocozza embraces Shore and always strives to make it a better place. He is an invaluable asset not only to the materials management department, but also for the entire hospital.
"Carl's actions have distinguished him as one of our greatest strengths. His daily contributions lead to the improvement of hospital performance, quality and service. We are a more organized and efficient organization because of him."
Cocozza feels grateful to be recognized for the role he plays in the medical center.
"The receiving dock is really where it all starts. I love what I do and really enjoy helping staff have what they need to care for their patients," Cocozza says.
A resident of Egg Harbor Township, Cocozza loves camping and spending time with his wife, Claudia, and their daughter Leah, as well as hunting and fishing.