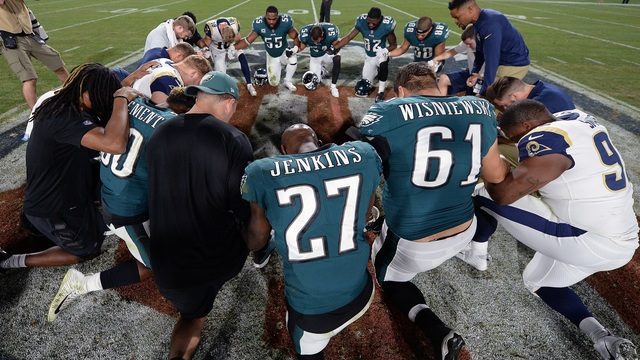 By Tim Kelly
It was once said by the Rev. Dr. Billy Graham that coaches influence more lives in one season than many people do in their entire lifetime.
With that premise in mind, it was easy for Laura Matera to organize the Cape Atlantic Fellowship of Christian Athletes first Coaches Breakfast.
The event, free to area coaches from Little League to the college level, is set for Saturday, January 26, from 8 to 9:30 a.m. at the Ocean City Tabernacle, 550 Wesley Ave., Ocean City.
Also invited are athletic directors, assistant coaches and athletic trainers, Matera added.
"We wanted to put a professional event for local coaches," said Matera, Director of the Cape Atlantic FCA. "We are faith-based and of course want to (advance the religious aspects of) the FCA.  But we also wanted to reach out in a secular way to recognize, encourage and support our local coaches."
Attendees will enjoy breakfast and networking with their peers.
"We want to celebrate the commitment and dedication of our area coaches," Matera said. "Whether you have coached for generations or are new to coaching, our desire is for you to be encouraged and inspired in your role," Matera said.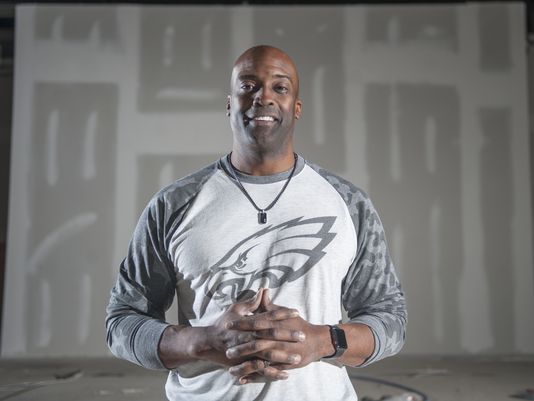 Ted Winsley, for 17 years the Chaplain of the Philadelphia Eagles, will engage with the coaches and deliver a talk, and Kevin Harvey, Chaplain of the Philadelphia 76ers, will also be on hand.
"Coaches are under a tremendous amount of pressure," Matera said. "Family breakups, teen suicide and drug use are at all-time highs. As a result, coaches have a very high burnout rate.  We want to help them get through whatever their difficulties may be."
Matera, well-known in the region for her FCA Surf and Skate Camps and many other activities on behalf of Cape Atlantic FCA, said the organization offers training programs for many of the aspects of coaching that are separate from teaching the sport and directing their squad on game day.
She said coaches will have the opportunity to sign up for the training.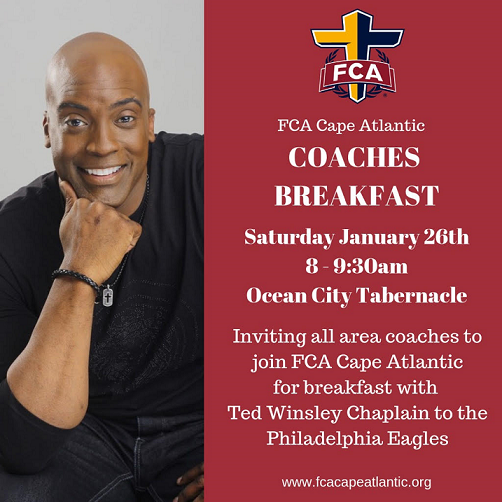 "The goal is for coaches to leave the event feeling inspired to continue in their leadership role to positively influence our young people," Matera said. "Healthy athletes build healthier communities." The Cape Atlantic FCA also recruits trains and pairs "Character Coaches" with local teams who assist the head coach with all types of challenges.
"Perhaps a player is going through something, the Character Coach is often able to handle it and provide a different voice (in addition to the coach's)," she said.
Winsley's tenure as the Birds' Chaplain spans three head coaching regimes, but his role became more visible since the team captured its first Superbowl championship last year.
"The Eagles are very (outspoken) as a team about their faith and very engaged," Matera said, "and Ted's message has been pushed into the forefront. He is now the Chaplain of a Superbowl-winning team."
A native of Dover, Delaware, Rev. Winsley is Pastor of Voorhees, Camden County-based The Family Church. He holds an Associate's degree and Pastoral Certificate from Vision International University, and a Bachelor of Science degree from Delaware State University.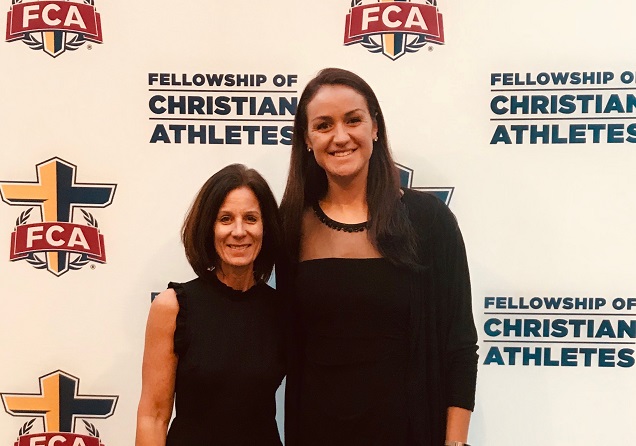 To learn more, please go to: http://fcacapeatlantic.org/