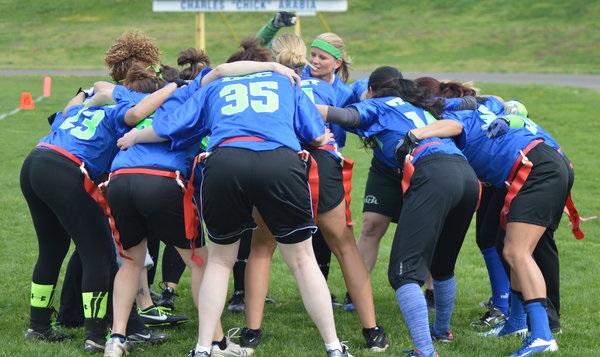 Women from around South Jersey are lacing up their cleats in advance of the 10th anniversary season of New Jersey's only all-female flag football league, the Jersey Shore Powderpuff League (JSPPL).
The season will kick off in April. But the JSPPL is about much more than just football, according to a press release.
Since its inception, the JSPPL, a 501c3 charitable organization, has encouraged women to stay active and healthy, provided over $17,000 in scholarships to female students from Mainland High School and has always built a sense of camaraderie and community among its participants, organizers say.
In addition to the scholarships, the league has also donated to other local charities, including children's benefits, local youth sports organizations and Hurricane Sandy relief.
Games take place on Saturdays in Somers Point, while individual teams practice in the evenings during the week. The time the coaches and players spend together on the field has transformed into many friendships off the field.
When it comes to the health and safety of the people involved in the league, the JSPPL holds nothing back. Many of its rules are designed to keep injuries to a minimum, several of which have been altered for improvement over the years.
"We take player safety very seriously," said Frank Ursino, the Director of Football Operations for JSPPL.
"At the end of each season, we ask our officials if they have any suggestions to make the games safer," he said. "As a group, they see and hear the most on the field, so their expertise is beneficial to our players' safety. We take their suggestions and add or change rules to keep everyone healthy."
The league carries insurance should a participant be injured.
With strong ties to the community, many JSPPL's sponsors are local Somers Point businesses. Some of them include Gregory's Restaurant & Bar and Charlie's Bar & Restaurant. Both businesses have helped co-organize events with the JSPPL including the Hurricane Sandy Relief Benefit.
The Breakfast Shop on Bay Avenue has also been a sponsor for several years and is home to the 2017 and 2018 Puff Bowl Champions. JSPPL players and coaches can frequently be found at any of these establishments for team dinners or with their families.
JSPPL board meetings are often held at Charlie's, Gregory's,or Clancy's By the Bay, another multi-year sponsor. Think Ink Custom Screen Printing in Mays Landing prints and donates all of the league's shirts.
"Without the support of our sponsors, we wouldn't have a league," said JSPPL League President Marleigh Halkes. "We're grateful for their involvement because this league has made a positive impact on a lot of people."
League founder Barbie Carney said she is proud of what the league has accomplished during since its inception.
"Charity, competition, camaraderie and sportsmanship are the four cornerstones of the JSPPL," said Carney. "I can't wait to see what we can accomplish over the next 10 years."
Registrations are open for the 2019 season for both players and coaches. All participants must be 18 years of age. 
To register visit the league's website at www.jerseyshorepowderpuff.com or email jerseyshorepowderpuffleague@gmail.com.