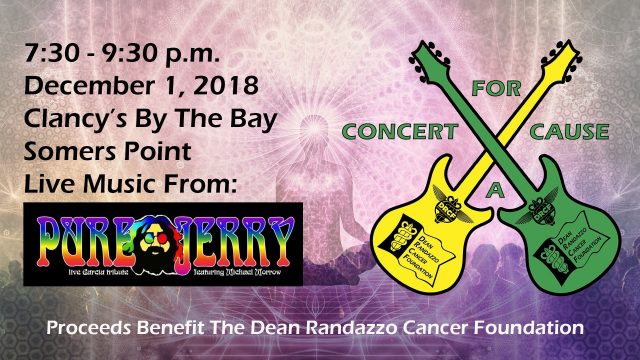 The Dean Randazzo Cancer Foundation has held fundraisers that involve surfing in freezing weather and paddling around Absecon Island, but all you need to do is show up and listen to some tunes for this event.
The third annual Concert For A Cause is 7:30-9:30 p.m. Saturday, Dec. 1, at Clancy's By The Bay, 101 East Maryland Ave. in Somers Point, featuring live music from Pure Jerry. Tickets are $20 and include domestic beer and house wine and are available at the door.
Proceeds benefit the Dean Randazzo Cancer Foundation, which raises funds through a variety of annual events to support local families who are battling cancer and local cancer research centers. Raffle tickets for a 50-inch television will be sold for $5 each and cancer foundation merchandise will be available for purchase.
This is a new venue and date for the event, which was previously held at Yesterday's Restaurant in Marmora on the Saturday after Thanksgiving.
"We're really excited to bring this event to Somers Point and we hope the new, bigger venue will help us to raise some extra money during the holiday season," said foundation president Mark Zappone.
The Philadelphia-based band Pure Jerry is fronted by veteran jam guitarist Michael Morrow and celebrates the music of Jerry Garcia. The band also includes Tim Eddlemon on keyboards, bassist Joe Gallant, Alan Lerner on drums and vocalist Donna Santorelli.
Pure Jerry has headlined festivals including Kind Roots 5, Soupergroove, Goodtimes Getdown, Groovelink Harvest, Opple Topple and Who Hill Family Campout. They have also had top billing at large venues including New Year's Eve 2013 at Triumph Brewpub in New Hope, Pa.; the Queen in Wilmington, Delaware; Ardmore Music Hall in Ardmore, Pa., and World Cafe Live in Philadelphia. Notably, Pure Jerry has twice celebrated sold-out shows at the Theatre of Living Arts.