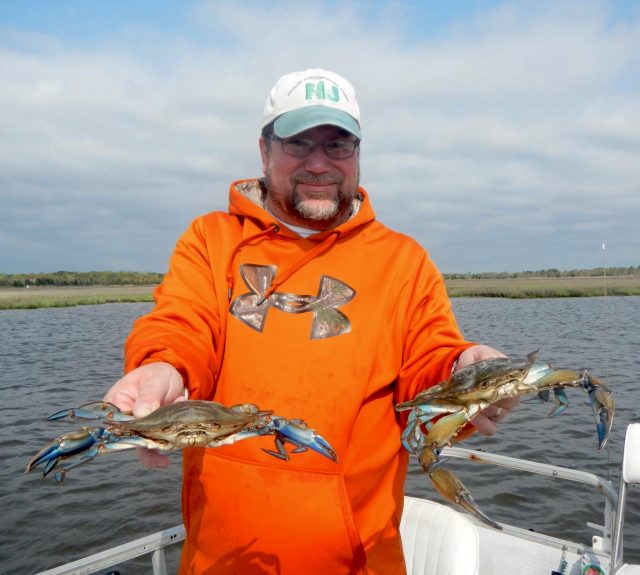 Ron Meischker, founder and president of the Patcong Creek Foundation, was appointed as a Council Committee advisor to the New Jersey Marine Fisheries Council at its bimonthly meeting on Nov. 8.
The appointment makes Meischker a recreational blue crab advisor for a period of three years. He has been an unofficial authority on crabbing in South Jersey for years, but will now serve in an official capacity.
During Executive Committee meetings of the New Jersey Marine Fisheries Council, there are breakout sessions for individual species.
Meischker will advise during these breakout sessions, making recommendations on blue crab regulations like total catch, minimum size and crabbing season.
These recommendations are then given to the New Jersey Marine Fisheries Council with an automatic motion and second for the council's vote.
Meischker, who also serves as a Somers Point city councilman, has been crabbing since he was a boy living in Mays Landing. He would ride his bike to Tuckahoe-Corbin City Wildlife Management Area to crab and enjoy nature.
He has traveled around the world and often crabbed when he lived in China, but to him, there is nothing better than catching blue crabs in the Great Egg Harbor estuary.
"It is an honor to be named as an advisor to the New Jersey Marine Fisheries Council. I look forward to being part of the process that not only protects the crabs, but is fair to those who enjoy catching them," Meischker said.
Meischker's passion for blue crabs led him to start what is now America's largest crabbing tournament, the Assault on Patcong Creek, which takes place each June in Somers Point.
This summer's event is the 10th anniversary of the tournament. Back in 2014, the tournament started making money from sponsors, so the Patcong Creek Foundation was established to keep area waters healthy for wildlife and recreation.
To learn more about the Patcong Creek Foundation or become a member of the organization, visit www.PatcongCreekFoundation.org