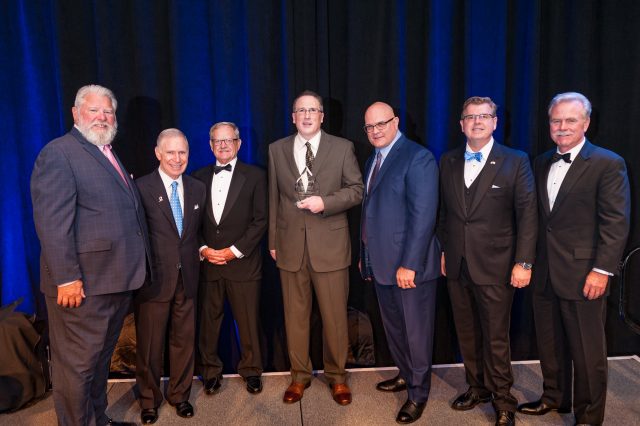 More than 360 friends and supporters came out for Shore Medical Center's fourth annual "A Cause to Celebrate" gala Friday, Oct. 5, at the Golden Nugget Hotel & Casino in Atlantic City.
Through sponsorships, a silent auction, program ads, ticket sales, a Bernie Robbins jewelry raffle and a matching gift by Tito's Vodka, nearly $500,000 was raised to benefit cancer care at Shore, according to a Shore Medical Center press release.
The event also honored former U.S. Ambassador Bill Hughes and Dr. David Angelastro, medical director of Shore's emergency department, for their leadership and commitment to Shore.
The event, which was presented by TD Bank and IBEW Local Union 351, has raised close to $2 million since its inception in 2015.
Guests enjoyed food from around the world, an abbreviated live performance of "Carmen" by the Atlantic City Ballet, as well as music by Kenny i.
Proceeds from the gala will benefit comprehensive cancer care at Shore Cancer Center, including Shore's subscription to Penn Medicine's telegenetics program. This program plays a vital role in how Shore is able to treat qualified cancer patients by allowing physicians to have higher clarity of the patient's disease. The genetic markers found through this program can determine the form of treatment that is best for the patient.
David Hughes, chief development officer and chief financial officer of Shore Medical Center, said he is grateful for the outpouring of support this year, both from individuals and corporations.
"I think that everyone can appreciate the need for quality, comprehensive cancer care close to home," Hughes said. "The energy in the room that night encouraged me that we can count on our community to help Shore Cancer Center provide the best cancer care possible to those we serve."
At the event, former Ambassador to Panama Bill Hughes received the medical center's Community Leader Award for generously volunteering his time and expertise on the Shore hospital board in the early 1970s and afterward during his service in Panama. He served on the Health System Board for nearly 20 years.
He said it was a privilege to serve the community hospital for so long, and thanked his family for supporting him through all of his commitments.
Dr. Angelastro received the medical center's Physician Leader Award for his work as director of emergency medicine at Shore. Along with his team, Angelastro has helped Shore score in the top percentile among hospitals nationwide when it comes to treatment and care in the emergency room.
In his remarks, the doctor emphasized that it is a sincere team effort in the emergency department. He thanked his staff for their commitment to providing the highest quality care to each and every patient.
For more information and photos from the event, visit www.acausetocelebrate.org.