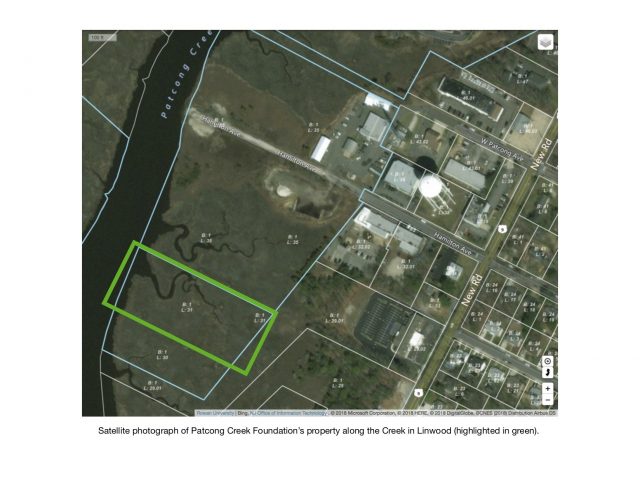 The Patcong Creek Foundation has purchased a nearly three-acre parcel of property along Patcong Creek in Linwood for an undisclosed price and plans to preserve it in perpetuity.
The land lies south of the Hamilton Avenue boat ramp. It sits in Linwood's conservation zone. The makeup of the property is 95 percent saline marsh and 5 percent tidal waters. There is a small tidal stream on the property, according to a foundation press release.
The foundation is currently having the land surveyed and reviewing access issues to see if it would be possible to provide educational walking tours to inform the public about the biology and hydrology of the marsh ecosystem.
Even if this is not possible, the organization is happy to know that the land will be protected. In fact, a large stretch of land south of Catalina Cove condominiums will be protected, because the foundation's property sits between two parcels owned and preserved by Linwood.
Ron Meischker, Founder of the Patcong Creek Foundation, said he was thrilled to see that there was a property available that was affordable. The group, however, did not announce the purchase price.
"Preserving Patcong Creek in its pristine condition is our mission, plain and simple," Meischker said. "We go about preservation in a variety of ways, but owning property along the creek is definitely a goal of the organization to ensure it is not developed in the future."
Foundation Executive Director Lisa Bender noted, "Though Patcong Creek is currently surrounded by beautiful marsh, there are areas where this land is zoned for development. This property purchase is a good start to ensuring preservation."
Patcong Creek Foundation's mission is to protect Patcong Creek and its watershed. The creek is a precious natural resource in southern New Jersey that is important for recreation and wildlife – some threatened and endangered. The foundation protects the creek through community outreach, clean-up events and education. But another aspect of protecting it is through preserving the land around it to prevent future development, according to the release.
To learn more about the Patcong Creek Foundation or become a member of the organization, visit www.PatcongCreekFoundation.org.