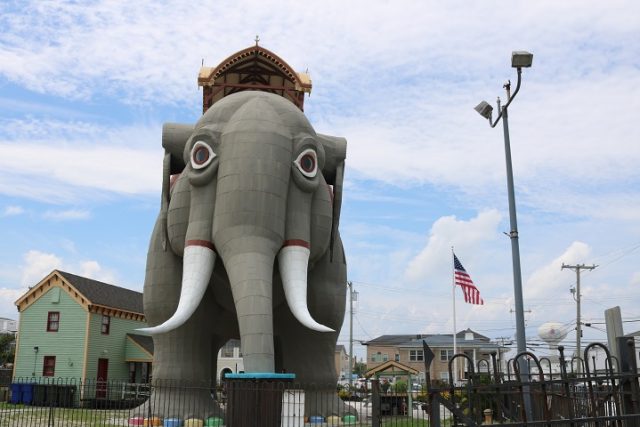 Month-long awareness and fundraising campaign kicks off Sept 25
An elephant never forgets, and Lucy wants to make sure South Jersey doesn't either! The Auxiliary of Shore Medical Center announced that it will partner with South Jersey's iconic attraction, Lucy the Elephant, to raise awareness for breast cancer and funds to assist in cancer care at Shore Cancer Center. Throughout the one-month campaign, Lucy will proudly wear two 8-foot long pink ribbons, as well as champion a social media and fundraising campaign #gopinkwithlucy.
Shore will kick off the campaign at Lucy the Elephant, South Jersey's iconic attraction, in Margate City, NJ on Tuesday, Sept. 25 at 1 pm. Included in the kick-off ceremony will be four physicians, dressed appropriately for this occasion in pink suits: Dr. David May of Shore Physicians Group, who has a subspecialty in breast surgery; Dr. Desiree D'Angelo-Donovan, general surgeon; Dr. Julianne Childs, who has a subspecialty in oncology; and Dr. Mohit Sood, Board Certified plastic and reconstructive surgeon, Shore Physicians Group.
Throughout the month of October, Lucy will encourage South Jerseyans to take photos of her ribbons, and post on social media with the hash tag #gopinkwithlucy. There will also be a month-long fundraising campaign, from which the proceeds will benefit Shore Cancer Center and Lucy the Elephant. Those who are interested in contributing to the fundraising campaign can do so online at shoremedicalcenter.org or in person at the Lucy gift shop. Both the gift shop at Lucy and the gift shop at Shore Medical Center will be selling a plush version of Lucy with a commemorative button for $20.
For more information, call (609) 653-3527.
About the Auxiliary of Shore Medical Center
Auxiliary of Shore Medical Center is Shore's original fundraising organization. Part of the Shore Medical Center Planned Giving and Development Department, the Auxiliary is made up of dedicated volunteers who work throughout the year on initiatives that include the hospital gift shop, thrift shops, golf tournaments and other community events. Since the Auxiliary's inception in 1940, the Auxiliary has donated more than $12 million to Shore Medical Center.
About Lucy the Elephant
Lucy the Elephant is a well-known six-story elephant historic landmark in the Atlantic City area. It is located in the Josephine Harron Park in Margate City, NJ. It was built to promote the sales of real estate and attract visitors. This elephant is funded by The Save Lucy Committee, Inc., which is a non-profit organization. Presently, Lucy is the one of the oldest tourist sites and is mentioned on the National Park Registry of Historical Landmarks.
About Shore Medical Center
At Shore Medical Center, located in Somers Point, NJ, kindness complements an extraordinary level of clinical sophistication. People are the foundation of this modern medical center where advanced technology harmonizes with compassionate care. Shore Medical Center attracts the area's best physicians, nurses and clinicians, and is the first and only hospital in New Jersey and one of 86 healthcare organizations worldwide to earn Designation as a Planetree Patient-Centered Care Hospital®. Recognized for its dedication to patient safety, Shore has received eight consecutive "A" grades in The Leapfrog Group's Hospital Safety Score since Fall 2014.  Shore Medical Center is home to six Centers of Excellence for Cancer, Cardiovascular, Neurosciences, Spine and Orthopedic, Emergency and Maternity and Pediatric care. Shore's affiliations include Penn Medicine, Onsite Neonatal Partners, St. Christopher's Hospital for Children, Mayo Medical Laboratories, and Advanced Radiology Solutions. In addition, Shore is a member of the Jefferson Neuroscience Network and has physicians on staff from the Rothman Institute. In 2011, Shore opened its Pediatric Care Center, the first of its kind in New Jersey, and its state-of-the-art Surgical Pavilion and Campus Expansion. The Shore Medical Center Planned Giving& Development team, which includes the Auxiliary, creates and implements dynamic philanthropic programs that support the mission of Shore Medical Center (www.GivetoShore.org). For more information about Shore Medical Center, visit www.ShoreMedicalCenter.org.