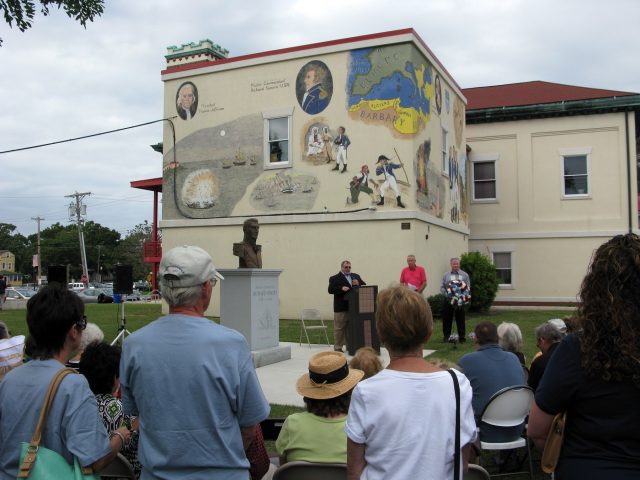 The City of Somers Point and the Somers Point Historical Society will sponsor the annual Richard Somers Day on Sunday, Sept. 9 at 2 p.m. at the Richard Somers Memorial Park, 801 Shore Road.
Each year a memorial remembrance is held for local historic native Richard Somers and the crew from the Intrepid.
Richard Somers, born and raised in Somers Point, was a Captain in the U.S. Navy. While in command of the U.S. Navy ship, the Nautilus, Richard Somers was fighting against the Barbary Pirates in the Mediterranean.
Under the command of Edward Preble, Captain Somers conceived a courageous plan. His plan was to fit up the ketch, Intrepid, as a fire ship and sail her into the Tripoli Harbor and explode her amongst the enemy ships. The Intrepid was fitted with 1500 pounds of gunpowder, a quantity of shells, shot, broken iron, and combustibles. Knowing this mission would mean death, all men volunteered under Captain Somers.
On the eve of Sept. 3, 1804, the Intrepid, entered Tripoli Harbor. A sudden explosion was seen by Preble's fleet. It is intended, the Intrepid, took fire sooner than intended, taking the lives of Captain Somers and 11 of his crew members.
The Somers Point Historical Society is currently raising funds to erect a monument for Richard Somers.  To make a contribution or for more information on Richard Somers Day call 609-927-2900 or go to www.somerspointhistory.org. You may also send donations to Somers Point Historical Society, PO Box 517, Somers Point, NJ  08244.