By Donald Wittkowski
Warning about possible catastrophic impacts to the environment and tourism, a coalition of South Jersey officials on Monday strongly denounced a proposal by President Donald Trump's administration to open up coastal waters across the country for oil and gas drilling.
Calling the plan "ridiculous," they predicted that New Jersey's tourism, commercial fishing industry and beaches would eventually be severely harmed by a large-scale oil spill if companies are given final permission by U.S. Interior Secretary Ryan Zinke to drill offshore.
"We don't want it here, Secretary Zinke. I hope you're listening," said Vicki Clark, president of the Cape May County Chamber of Commerce.
Clark was among the business, political and environmental leaders who spoke during a press conference held in front of the Ocean City Music Pier on the Boardwalk. The event used the ocean as a backdrop to dramatize what is at stake if an oil spill did occur in New Jersey's coastal waters.
"This is a huge gamble and a huge risk," said U.S. Rep. Frank LoBiondo, R-2nd, a longtime opponent of offshore drilling and the highest-ranking political leader at the press conference.
Gerald Thornton, director of the Cape May County Board of Chosen Freeholders, was the only speaker to directly invoke Trump's name while criticizing the drilling proposal.
Thornton implored Trump to worry more about protecting the U.S. environment and tourism instead of searching the ocean for more oil that could be sold to foreign countries.
"Donald Trump, protect our home first," he said.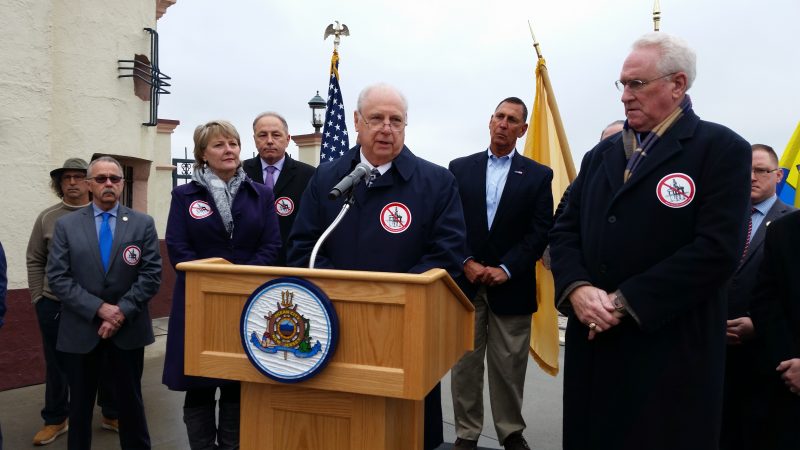 Thornton noted that Trump's proposal revives a battle that has raged on since the 1980s. He said he and his fellow freeholders have been overwhelmingly opposed to any plans for offshore drilling since then and will continue their fight now.
"We're talking about billions and billions of dollars that are jeopardized here," Thornton said, referring to South Jersey's tourism and commercial fishing industries.
Overall, the Jersey Shore accounts for half of New Jersey's $44 billion annual tourism industry. Cape May County alone contributes $6.3 billion per year in tourism spending, according to figures cited at the press conference.
In addition, the port of Cape May produces $71.6 million in annual economic output, making it the second-biggest commercial fishing port on the East Coast and fourth largest in the country, officials said.
"There's a lot at stake here," LoBiondo said of the potential harm to the commercial fishing industry.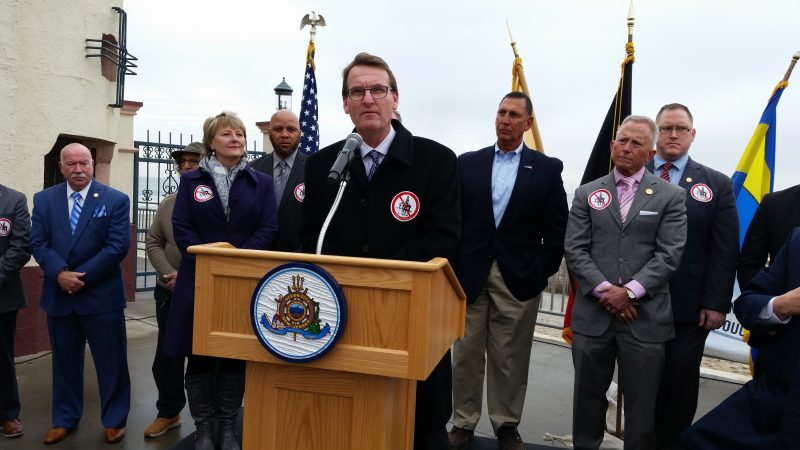 Speaker after speaker at the press conference warned that a devastating, large-scale oil spill is inevitable if drilling is allowed. They said such a spill could cripple the New Jersey seashore communities that depend on their beaches to attract millions of tourists each year.
"We can't afford to risk our economy and our home," Ocean City Mayor Jay Gillian said.
"The future of our world depends on making sure that we take care of Mother Earth," Atlantic City Mayor Frank Gilliam added.
Margot Walsh, executive director of the Jersey Shore Partnership, an organization that helps to protect the state's 127-mile-long coastline, predicted, "We're not talking about if there would be an oil spill. We are talking about when."
Walsh called the offshore drilling proposal "a frightening idea," while Clark labeled it a "ridiculous plan."
Another speaker, Cindy Zipf, executive director of the environmental group Clean Ocean Action, equated offshore drilling to the time when garbage dumps were formerly allowed along the New Jersey coast.
Zipf said New Jersey acquired the reputation as the "ocean dumping capital of the world" before the practice ended. She said she believes that the opposition to offshore drilling is just as strong as it was to ocean dumping.
"It's a nonpartisan issue, because the ocean is out there for everyone," Zipf said.
In January, the Interior Department announced a proposal to open up nearly all U.S. offshore waters to oil and gas drilling, igniting a storm of protests from coastal states, environmental groups and the tourism industry nationwide.
Trump has argued that offshore drilling could boost the U.S. economy and also reduce the country's dependence on foreign oil.
Officials at the press conference urged opponents of offshore drilling to write letters to the Bureau of Ocean Energy Management, which is accepting public comment until March 9.
Zinke, the Interior secretary, has already ruled out Florida for offshore drilling, citing its potential harm to tourism in the Sunshine State. New Jersey officials seized on Zinke's action on behalf of Florida to demand the same type of exemption for the Garden State.
"Why is Florida more important than New Jersey?" LoBiondo said in an interview after the press conference. "The hue and cry from states on the Gulf Coast, the East Coast and the West Coast that are against offshore drilling is growing louder."
While LoBiondo continues to fight in Congress against offshore drilling, New Jersey is looking to use its legislative powers to thwart it, according to state Sen. Jeff Van Drew, D-Cape May, Cumberland, Atlantic.
"There is no way, no how, we would ever, ever, ever support this," Van Drew said.
Legislation pending in the state Senate and Assembly would allow New Jersey to block oil and gas companies from setting up pipes, rigs and other equipment needed for offshore drilling, Van Drew said.
International waters start three miles off the coastline. But New Jersey and other coastal states control the ocean waters within that three-mile boundary, allowing them to throw obstacles in the way of oil and gas companies. California used the same strategy to fight offshore drilling along its coast, Van Drew explained.
"It's the California model, with our own little tweaks," he said of the New Jersey legislation, which he has sponsored in the Senate.
Van Drew was part of a delegation of state lawmakers from Atlantic and Cape May counties who attended the press conference. More than a dozen county and local officials from Atlantic and Cape May counties also showed up.
Underscoring their unity against coastal drilling, many of the attendees wore patches depicting an offshore oil rig with a red line drawn through it. They said opposition to offshore drilling has resulted in a bipartisan coalition of New Jersey politicians, environmentalists and business groups – and may be strong enough to kill the proposal.
"We are one voice and our voice is, 'Not here in New Jersey. No way,'" Walsh said.