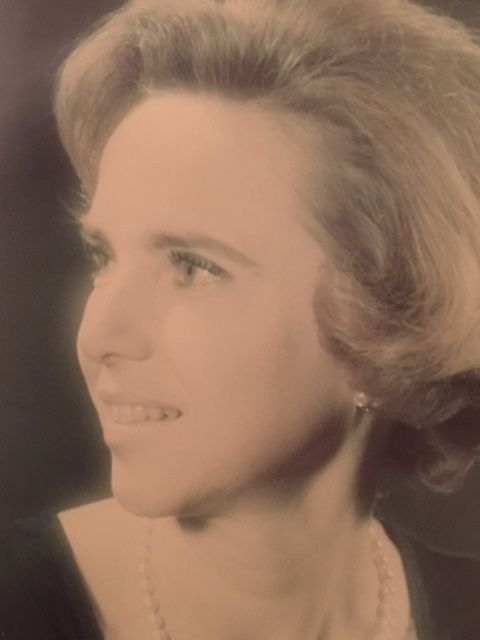 Nancy L. Hughes, surrounded by her loving family, went home to be with the Lord on Thursday, January 4, 2018.
Born on December 8, 1935 in Moorestown, New Jersey, Nancy graduated from Moorestown High School and attended Rutgers University. At Rutgers, Nancy's smile and beauty caught the eye of second-year law student Bill Hughes as she walked by his classroom several days a week. It was the beginning of a lifelong romance. The two of them would spend hours talking, dancing at the Almonesson Lake Dancehall and making plans to realize their dreams together, leading to 61 years of marriage. Upon Bill's graduation from Law School, a clerkship opportunity arose in Ocean City, N.J., and it has been their home for almost 60 years. There they raised their four children and became very much involved in the community. While Nancy was a full-time homemaker, she also became active in many civic organizations. Over the years, Nancy and Bill often skied with friends in the Poconos and Vermont, took the children camping in their motorhome and on vacations around the country. She also fell in love with the Virgin Islands, which in their later years became their second home during the winter months. When Bill ran for the U.S. Congress, Nancy was his biggest supporter as well as the cornerstone of his new political career. In his first campaign in 1970, as well as in the successive 10 campaigns, Nancy ran the campaign offices.
From helping to build and oversee the 500+ volunteers, to getting the mailings and calls out to the voters, Nancy was the one who got it done. Her strength and political instincts were second to none, and she played no small role in helping Bill get elected and re-elected over the years. Following Bill's election to Congress in 1974, she remained at home for eight years while Bill commuted to Washington every Monday so that their children could finish their education in Ocean City. Every two years Nancy turned from being the homemaker to the driving force behind a new campaign. When the girls graduated from Ocean City High School, Nancy and Bill, Jr. moved to Washington so that their family could be together once again. In Washington Nancy again became active in community affairs and in Bill's congressional work. Her first and primary passion, however, was always caring for her family. Bill's work as Chairman of the Subcommittee on Crime required him to travel with the DEA to many places around the world, and when possible Nancy would be at his side. Nancy's vivacious nature, charm and quick wit won her many friends as they met with the foreign officials.
She was a superb Ambassador for our Country. Following Bill's retirement from Congress and subsequent appointment as the U.S. Ambassador to Panama, Nancy assumed a new role – the First Lady of the U.S. Embassy in the Republic of Panama. From 1995 to 1998, Nancy organized and spearheaded bi-weekly business, charitable and social events on behalf of the U.S. Embassy. She also raised hundreds of thousands of dollars for the orphans and underprivileged in Panama, for which Panama's Ladies of Caravana most recently honored her for extraordinary leadership. In Panama, Nancy was just as comfortable strolling the stalls of the native markets in shorts and a large-brimmed hat as she was in organizing and hosting an official dinner for 800 dignitaries. She was an amazing hostess who was loved and respected by the Embassy staff as well as the hundreds of Panamanians whom she befriended. When she and Bill returned to their home in Ocean City, they once again became actively involved in their community. Nancy joined her husband in helping to organize a campaign to build a new high school for Ocean City and neighboring communities, which is now one of the City's crown jewels. Subsequently the Ocean City School Board of Education honored Nancy by naming the new school's magnificent auditorium "The Bill and Nancy Hughes Performing Arts Center. It was Nancy's most singular honor. She loved those 50 years of public life, but her most cherished moments were when she was simply in her Ocean City home with her husband, surrounded by her children and grandchildren, and just looking at the ocean and beach.
Nancy is predeceased by her parents Mary and John Paul Gibson and sister Ruth Hannum. Nancy is survived by her husband William J. Hughes, daughters Lynne Hughes (Doug Walker), Barbara Sullivan (Barry), Tama Hughes (Dante Ceniccola), son William J. Hughes, Jr. (Stephanie), granddaughters Kristin Ceniccola (Alex Campos), Anna Ceniccola and Madeline Walker, grandsons Barry Sullivan, Jr. (Maura), Brendan Sullivan (Allyson), Bryan Sullivan (Christine), William J. "Johnny" Hughes, III, Charles Hughes, Patrick Hughes and Ryan Hughes as well as three great grandchildren, Madison and Olivia Sullivan and Jackson Campos, and her sister Mary Jean Salzer.
Visitation will take place on Thursday, January 11, 2018 from 6pm to 8pm at the Godfrey Funeral Home of Palermo, 644 South Shore Road, Palermo, NJ 08223 and January 12, 2018 from 9:00 a.m. to 11:00 a.m. at Holy Trinity Episcopal Church, 2998 Bay Avenue Ocean City, N.J., immediately followed by a church service at 11:00 a.m.
In lieu of flowers the family requests that any contributions be made to the Bill and Nancy Hughes Performing Arts Center Fund, P.O Box 507, Ocean City, NJ.
For condolences to the family, visit www.godfreyfuneralhome.com.