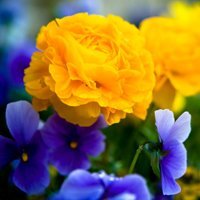 Harry Michael Styer, 53, of Longport. Devoted husband, loving father, loyal friend, well respected businessman passed away suddenly on November 15, 2017 of a sudden cardiac event.  Michael graduated from Saint Francis Preparatory School in Spring Grove, Pa. , class of 1982.  He also attended Florida Institute of Technology in Jensen Beach, Fla. Michael was a very accomplished entrepreneur starting in the family business, Harry's Inn, located in Somers Point, NJ; he owned and operated Point Jet Ski rentals in the 1980's. He also founded MICHAEL'S AFTER HOURS BAR AND RESTAURANT.  Captain of his "own ship," his seamanship skills were extraordinary.   After meeting Kimberly Cook in the 1980's, Michael's drive for success moved forward quickly, ultimately establishing Coastal Marine Piling in 1987.Though his career was cut horribly short, he always demonstrated his keen business insight and sense of fairness and honesty. A well respected business in the community, Coastal will continue Michael's legacy along with his remarkable standards of excellence. Michael lived a very happy, enriched life, punctuated by deep love for his family above and beyond all other aspirations. Supporting his daughters on all levels, his favorite phrase was "whatever makes you happy" and according to them, he always led by example and was known to say, "if you can't do the job right, don't do it at all." Everyone who knew him well would agree, "he always tried his best to do the right thing."
He is survived by his wife of 28 years, Kimberly (Cook). His daughter's Lee Marjorie, Noel Elaine, Ryann Michelle. Father, Harry Joseph "Bud" Styer (Mary), mother, Elaine Marie Styer. Siblings: Caron (Richard), Bradley (Lisa), Bernard, Morgan (Jennifer), Romaine (James), Deborah (James), Reina (Joesph) and many loved nieces, nephews and friends.
A Mass of Christian Burial and celebration of life will be held at Holy Trinity Parish (Blessed Sacrament Church) 11 N. Kenyon Avenue, Margate, NJ, Saturday, December 2, 2017. Visitation will be from 9am-11am. Mass to follow. In lieu of flowers donations may be given to: Family Promise of Cape May County at 505 Townbank Road North Cape May, NJ 08204. familypromisecmc@yahoo.com 609-846-7862.
For condolences to the family, visit www.godfreyfuneralhome.com.