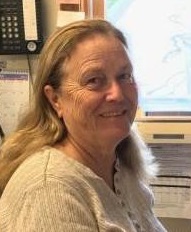 Lynda F. Brown (nee Carpenter), 70, resident of Strathmere NJ and Port St. Lucie FL, passed away on Saturday, October 21, 2017 surrounded by her family.  Born in Woodbury, NJ she was co-owner of the Deauville Inn in Strathmere.  Lynda was a member of many community groups and graciously supported numerous charitable organizations.
Her favorite saying, "If you love your job, you never work a day in your life" was what she lived.  She was an avid golfer, scoring her 1st hole in one on February 9, 1999.  Her family was her number one priority, always providing the comfort and support anyone needed.  She welcomed friends and staff and made everyone feel they were family.
She is survived by her Husband, Ken Brown; her Children, Walter Scanlon, Edward Scanlon, III (Shirley), and Jackie Friend (Bill), and Daughter in Law Margo Brady (Peter); Sister, Barbara Williams (Dan); Brother John Carpenter (Joann); her Mother Gloria Carpenter.  Grandchildren, Edward, Taylor, Morgan, Nicole, Colton, Makenzie, Cassandra, Halie, and Justin who were the light of her life.  Many Nieces, Nephews, and extended family.
She was pre-deceased by "the wind beneath her wings" her Father, Walter Carpenter; and her Granddaughter Brianna Friend.
Her Funeral Service will be offered Thursday at 12 o'clock noon from The Godfrey Funeral Home of Palermo, 644 South Shore Road, Palermo, NJ where friends may call from ten o'clock until the time of service. Burial will follow in Seaside Cemetery, Palermo, NJ.
Memorial contributions in her memory may be made to either Shriner's Hospital for Children, 3551 North Broad Street, Philadelphia, PA 19140 or Strathmere Volunteer Fire Company, PO Box 71, Strathmere, NJ 08248.
For condolences to the family, visit www.godfreyfuneralhome.com.