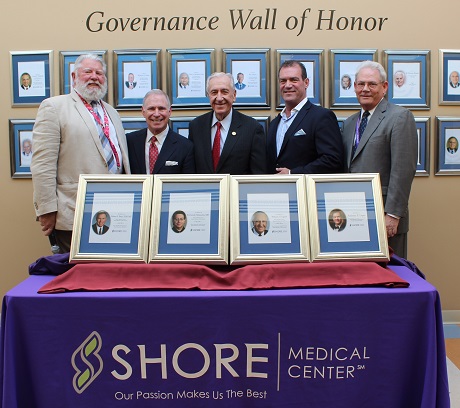 Four Board members were inducted into the Shore Memorial Health System's prestigious Governance Wall of Honor at a ceremony held in DiOrio Hall June 14. Those members include Robert J. Bray, DDS, MS, of Brigantine; Fernando Delasotta, MD, of Margate; Former Ambassador William J. Hughes, of Ocean City; and Anthony Lepre, of Philadelphia. The ceremony united Shore board members, hospital executives, friends and family in a celebration of the honorees' volunteerism, expertise, passion and commitment to improving healthcare in our region. As part of the ceremony, plaques for each member were added to the Wall of Honor, bringing the total number of inductees in the organization's history to twenty-two. Dr. Robert Bray joined the Shore Health Enterprises Board in 1998 and served as a Director until 2000, when he was nominated and elected to serve as a Trustee of the Shore Memorial Hospital/Medical Center Board. During his 17 years as a Hospital trustee, Dr. Bray served on many committees including Finance, the Advisory Committee for Campus Development, and the Executive Committee, among others. He served as the board treasurer and assistant secretary from 2008 – 2010 and is currently the board vice chair.
Dr. Fernando Delasotta has served on the Shore Memorial Hospital/Medical Center Board since 1999, and continues to serve as a trustee. Dr. Delasotta's board leadership roles included two years as board secretary/treasurer and membership on the Finance and Executive committees. In 2016, he also joined the Shore Memorial Health System Board.
William Hughes joined the Shore Memorial Hospital Board of Trustees in 1973 and served until 1975. After a nearly 20-year hiatus, former Ambassador Hughes returned to Shore to serve on the newly-formed Shore Memorial Health System Board where he continues to serve. In addition, Mr. Hughes is an emeritus member of the Shore Memorial Health Foundation Board. During his tenure as a trustee, Hughes has been a member of the Advisory Committee for Campus Development and the Governance Committee.
Anthony Lepre serves on the Shore Health Enterprises, Inc. Board of Directors, which he has been a member of since 1998. During his tenure, he served as board secretary in 2010 and vice chair in 2011 to 2012. In 2013 he became board chair serving from 2013 to 2015. During his time, he also served on the Audit and Compliance Committee and the Management Review and Compensation Committee.
About Shore Medical Center At Shore Medical Center, located in Somers Point, NJ, kindness complements an extraordinary level of clinical sophistication. People are the foundation of this modern medical center where advanced technology harmonizes with compassionate care. Shore Medical Center attracts the area's best physicians, nurses and clinicians, and is the first and only hospital in New Jersey and one of 86 healthcare organizations worldwide to earn Designation as a Planetree Patient-Centered Care Hospital®. Recognized for its dedication to patient safety, Shore has received six consecutive "A" grades in The Leapfrog Group's Hospital Safety Score since Fall 2014. Shore Medical Center is home to six Centers of Excellence for Cancer, Cardiovascular, Neurosciences, Spine and Orthopedic, Emergency and Maternity and Pediatric care. Shore's affiliations include Penn Medicine, Onsite Neonatal Partners, St. Christopher's Hospital for Children, Advanced ICU Care, Mayo Medical Laboratories, and Advanced Radiology Solutions. In addition, Shore is a member of the Jefferson Neuroscience Network and has physicians on staff from the Rothman Institute. In 2011, Shore opened its Pediatric Care Center, the first of its kind in New Jersey, and its state-of-the-art Surgical Pavilion and Campus Expansion. The Shore Medical Center Planned Giving & Development team (www.GivetoShore.org) creates and implements dynamic philanthropic programs that support the mission of Shore Medical Center. For more information about Shore Medical Center, visit www.ShoreMedicalCenter.org.