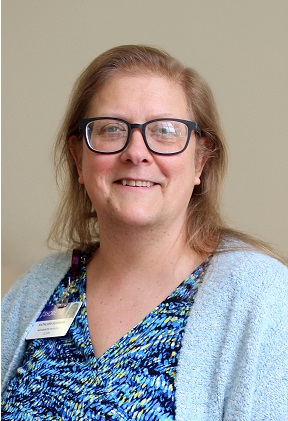 For consistently delivering outstanding patient-centered service and embodying Shore Medical Center's Mission, Vision and Values, Shore is proud to announce that Accounts Payable Clerk Kathy Bessman has been named the medical center's May 2017 Employee of the Month.
Bessman was hired in 1986 in the payroll department and later moved to accounts payable. This past October, she celebrated her 30th anniversary of employment with Shore.
According to her colleagues, Bessman is always willing to lend a hand, offer advice or help staff understand the process of working with the accounts payable department. She is approachable, thoughtful, detail oriented and considerate.
While Bessman's role does not provide regular interaction with patients, she cares very much about the patient experience at Shore. She recently went above and beyond to help improve the patient experience by recommending enhancements to an area used by CT scan patients. Bessman believes strongly that a clean and beautiful healing environment contributes greatly to a patient's outcomes, so she is quick to pick up litter on campus and make other improvements when possible.
Not only is Bessman an employee of Shore Medical Center, she is also a cancer survivor who was treated at Shore Cancer Center.
"I never once regretted staying here at Shore for my treatments and surgeries. The caring professionals I have encountered in each department have made me more proud than ever to be a part of the Shore team," Bessman says.
Bessman lives in Pleasantville with her husband Charlie and has two step-sons, a daughter-in-law and grandson. She enjoys traveling, astronomy, gardening, and opera, among many other hobbies and interests.
ABOUT SHORE MEDICAL CENTER
At Shore Medical Center, located in Somers Point, NJ, kindness complements an extraordinary level of clinical sophistication. People are the foundation of this modern medical center where advanced technology harmonizes with compassionate care. Shore Medical Center attracts the area's best physicians, nurses and clinicians, and is the first and only hospital in New Jersey and one of 86 healthcare organizations worldwide to earn Designation as a Planetree Patient-Centered Care Hospital®. Recognized for its dedication to patient safety, Shore has received five consecutive "A" grades in The Leapfrog Group's Hospital Safety Score since Fall 2014. Shore Medical Center is home to six Centers of Excellence for Cancer, Cardiovascular, Neurosciences, Spine and Orthopedic, Emergency and Maternity and Pediatric care. Shore's affiliations include Penn Medicine, Onsite Neonatal Partners, St. Christopher's Hospital for Children, Advanced ICU Care, Mayo Medical Laboratories, and Advanced Radiology Solutions. In addition, Shore is a member of the Jefferson Neuroscience Network and has physicians on staff from the Rothman Institute. In 2011, Shore opened its Pediatric Care Center, the first of its kind in New Jersey, and its state-of-the-art Surgical Pavilion and Campus Expansion. The Shore Medical Center Planned Giving & Development team (www.GivetoShore.org) creates and implements dynamic philanthropic programs that support the mission of Shore Medical Center.