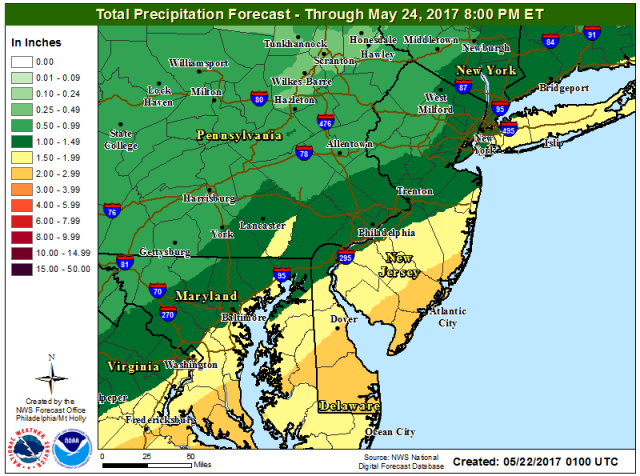 We are trading dry, breezy and cool for clouds & occasionally wet weather this week. A cold front will move through Monday then stall to our south allowing waves of low pressure to keep us dreary for several days. While it won't rain the entire week, potentially 2″-3″ of rain is expected through the period.
MONDAY
Scattered showers and even a t'storm is expected Monday morning through the afternoon. Rain will be heavy at times with some flooding due to poor drainage. Temperatures will remain in the 60s with a southerly breeze at 10-15 mph.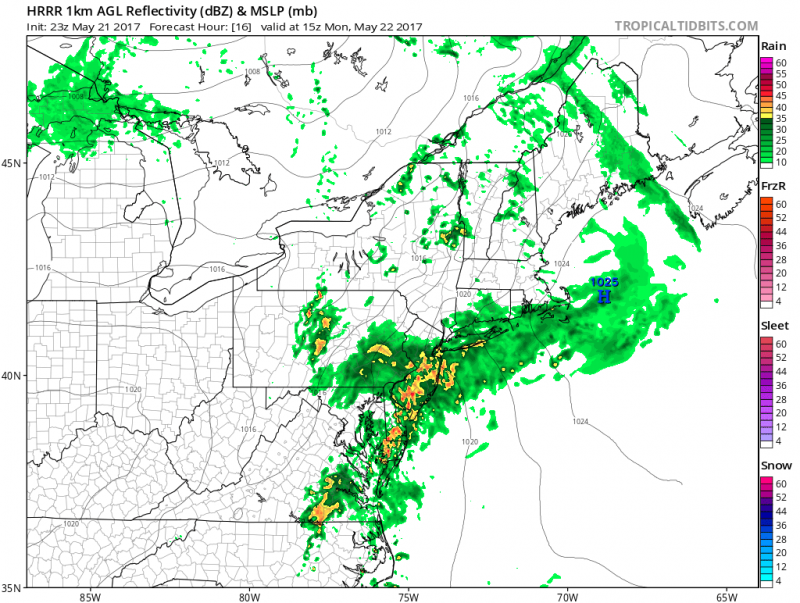 Computer models show heavy showers and storms moving through Monday. (Courtesy:tropicaltibits.com)
TUESDAY
As the front stalls to our south, winds will shift to the northeast and clouds will remain. A wave of low pressure will ride along the front and could get close enough to touch of some afternoon rain. Temperatures will hold in the 60s.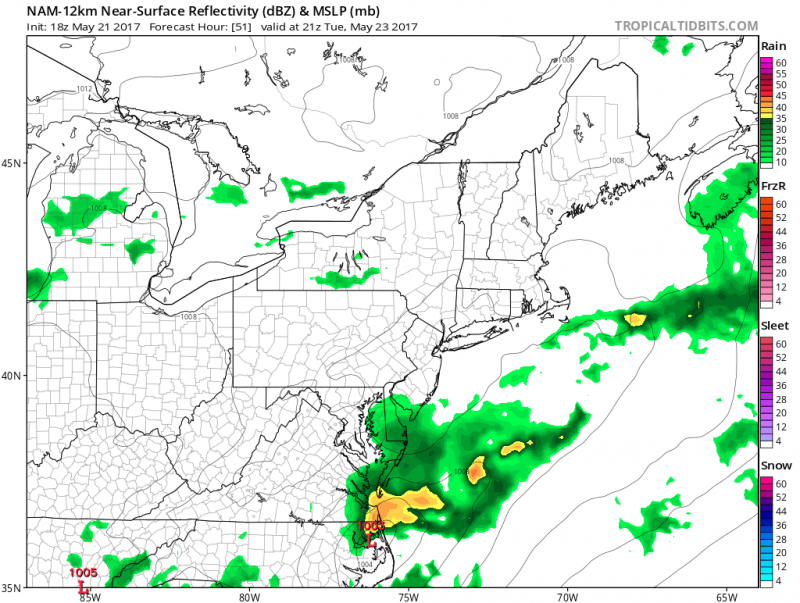 Computer models show a wave of low pressure to our south, giving us the threat of more rain. (Courtesy:tropicaltibits.com)
WEDNESDAY
Most of the day could be dry as we wait for another wave of low pressure moves in Wednesday night. A good deal of clouds is expected with temperatures in the upper 60s.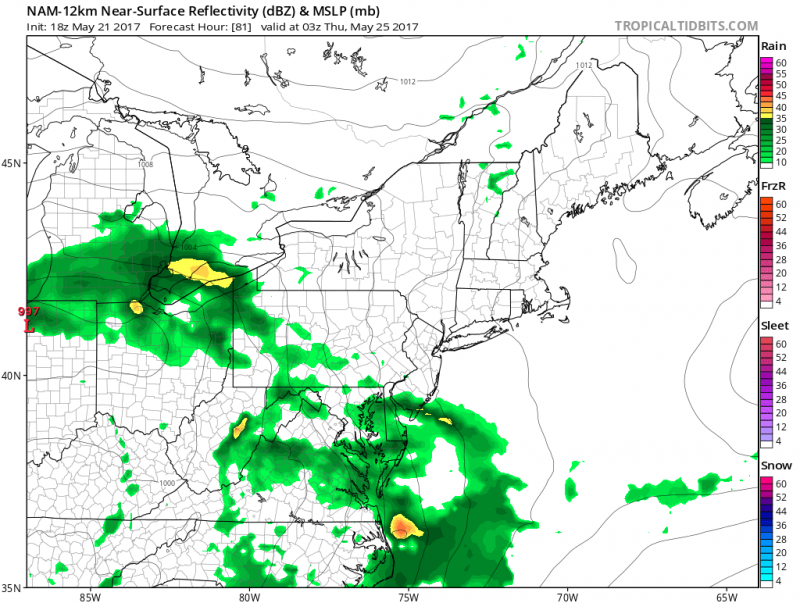 Computer models show more showers moving north late Wednesday. (Courtesy:tropicaltibits.com)
THURSDAY
Another cold front will arrive which will help kick out our dreary weather for the week but not before it brings another round of showers and possible t'storm. Temperatures once again will be in the 60s.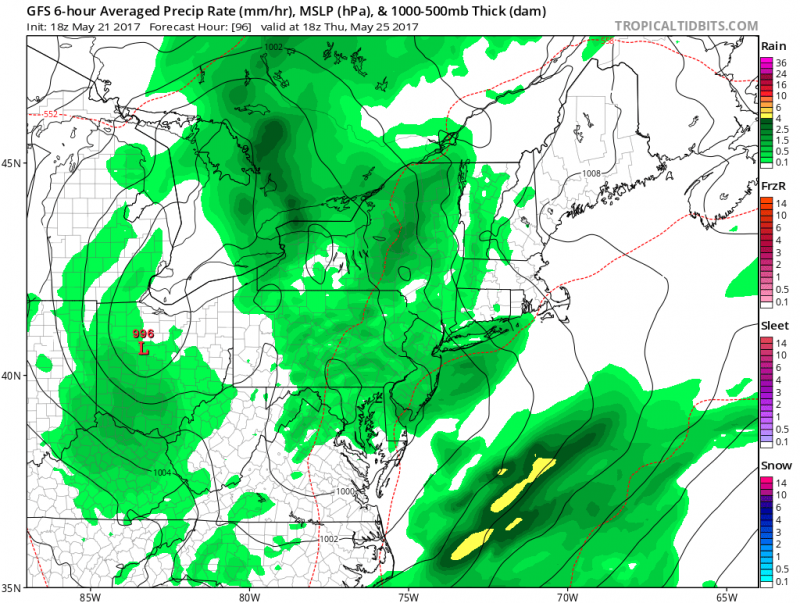 Computer models show another round of showers and storms on Thursday. (Courtesy:tropicaltibits.com)
MEMORIAL DAY WEEKEND.
So far it looks as if we could have a pretty decent weekend with a good deal of sunshine and warmer temperatures. Some instability from a trough swinging through could trigger a few showers in the afternoon but most should remain north & west of our area. West winds will also boost temperatures into the 70s!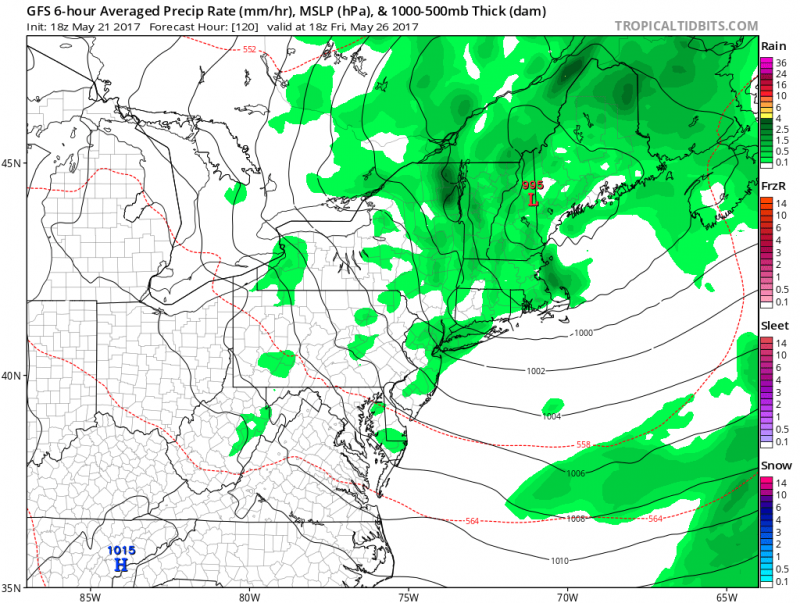 Computer models show a few spotty showers on Friday, low threat for the coast. (Courtesy:tropicaltibits.com)
There are models that are still showing a chance of some unsettled weather late Saturday and Sunday. However, it is too early to determine if any showers will affect our area.
This time of year, wind direction is a big factor as ocean temperatures are in the upper 50s. Winds will turn southerly on Saturday into Sunday and then southeasterly on Memorial Day. Which means temperatures could only get into the 70s briefly before the cooler seabreeze knocks us back into the 60s. We will keep a watch all this week regarding this weekend's weather. Stay Tuned!