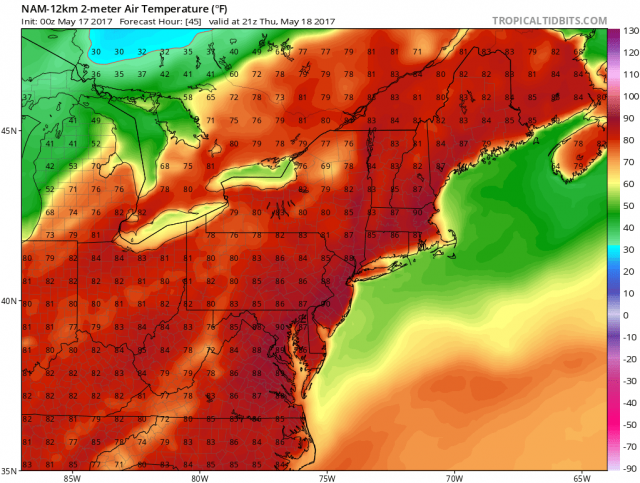 A summer-like surge will settle in for the remainder of the week as a large high pressure system anchors itself offshore. Southwest winds will pump warm & humid air into the area through Friday. Temperatures will soar well into the 80s to near 90 across South Jersey however, southwest winds will keep the coast a bit "cooler".
Plenty of sunshine expected each day with an afternoon seabreeze which will knock temperatures down a bit along the beaches. Highs will reach the upper 70s on Wednesday and into the 80s Thursday and Friday.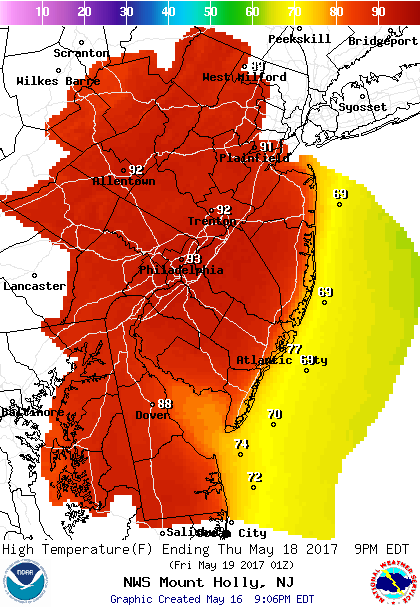 Temperatures will climb into the low 90s well inland with 80s closer to the shore. As a result of the heat and humidity, an Air Quality Alert was issued for the entire region. This means ground level ozone will reach unhealthy levels mostly due to emissions from gas powered vehicles and equipment. Anyone with respiratory difficulties, such as asthma, should limit their time outdoors especially children and the elderly. This harmful air pollutant occurs usually in the summer months when temperatures reach well into the 80s and 90s with mostly sunny skies and virtually no wind.
If you were hoping the warmth lasted into the weekend…no such luck. A cold front will move in Friday which could bring the threat of a shower or t'storm late in the day. High pressure from Canada will build in and winds will shift onshore dropping temperatures into the 60s by Saturday. It will be quite breezy but sunshine will prevail.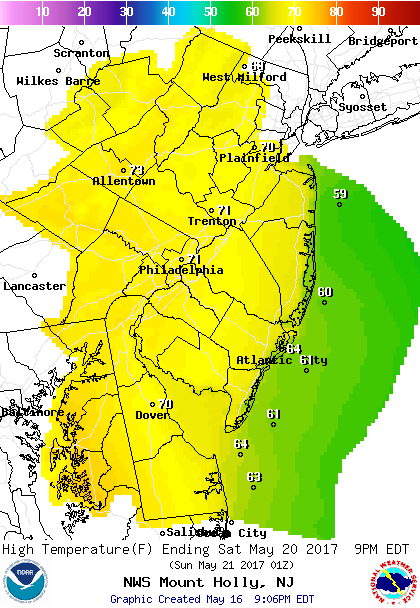 Forecast Highs for Saturday.
For Sunday, there could be more clouds but still dry with onshore flow still keeping temperatures in the 60s.