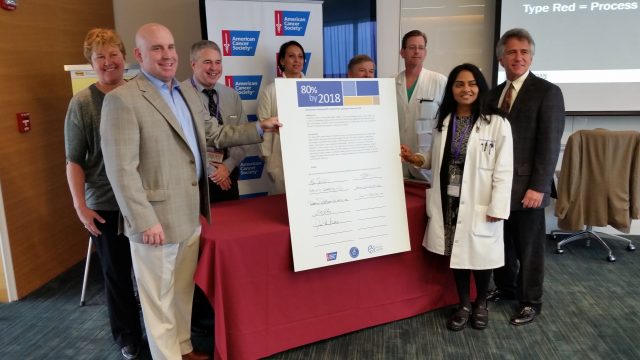 By Donald Wittkowski
Colorectal cancer has become the second-leading cause of cancer deaths in the United States. Yet it is also a form of cancer that is preventable if detected early, medical experts say.
Stressing the message that early detection saves lives, Shore Medical Center in Somers Point joined with the America Cancer Society and more than 1,000 other organizations across the country on Friday for a new initiative to promote colon cancer screening.
The "80 percent by 2018" campaign has set a goal of having 80 percent of the adults age 50 and older undergo colon cancer screening by 2018.
"If we can achieve 80 percent by 2018, in the United States 277,000 new cases and 203,000 colon cancer deaths would be prevented by 2030. In New Jersey, that's 8,721 cases and 6,391 deaths averted by 2030," said Jason Plaia, senior market manager for the American Cancer Society.
During a ceremony at Shore Medical Center's board room, doctors and other healthcare professionals signed a pledge card affirming their commitment to the "80 percent by 2018" campaign.
"While we are excited about reaching the 80 percent number, what should drive us most is celebrating this goal with all the people who will never hear the words, 'You have colon cancer,'" Plaia said in keynote remarks during the ceremony.
Plaia noted that the estimated number of people in New Jersey needing a colon cancer test to achieve the 80 percent milestone by 2018 is 767,900.
"By working together, demanding more of ourselves and collectively pushing harder, we will make greater progress, prevent more cancers and ultimately save more lives," Plaia said.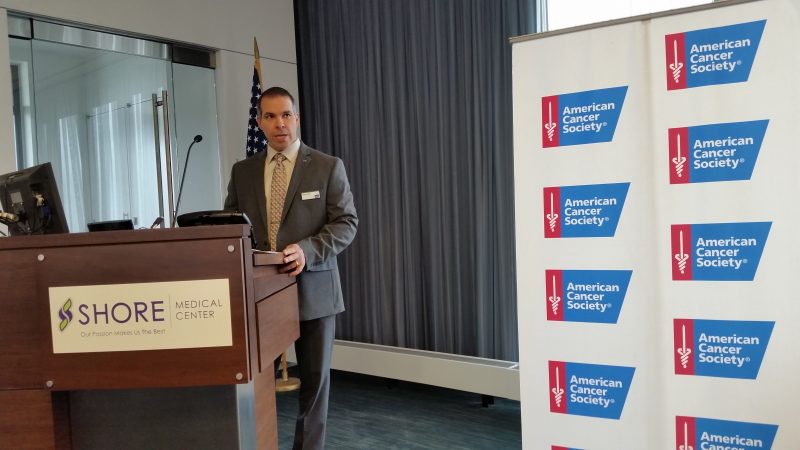 Dr. Ken Schwab, chairman of gastroenterology at Shore Medical Center, said by the time they hit 50 years old, 30 percent of people will have developed precancerous polyps. Removal of those polyps is what makes colorectal cancer preventable.
"You can prevent the cancer before it develops," Schwab said, explaining that recent advances in colon cancer screening have greatly helped with early detection.
Dr. Robert M. Goldberg, director of medical oncology at Shore Medical Center, said many people simply must overcome their reluctance to undergo testing. Screening is relatively easy, requiring a patient to take laxatives the day before it is done, he added.
"I've been through it twice before and I'm still here," Goldberg said of the screening he has had for colon cancer.
Colorectal cancer is the second-leading cause of cancer deaths in both men and women. It is expected to kill about 50,260 people in the United States in 2017, according to estimates by the American Cancer Society.
However, the death rate from colon cancer has been dropping in both men and women for several decades. The primary reason for the decline in death rates is that colorectal polyps are being found more often by screening and are removed before they become malignant, the American Cancer Society says.
Dr. James Herrington, a surgeon at Shore Medical Center, stressed the same point during Friday's "80 percent by 2018" ceremony.
"We know that colon cancer starts as a small polyp. If you can remove the polyps at an early stage, you can catch the cancer before it starts to invade the body," Herrington said.