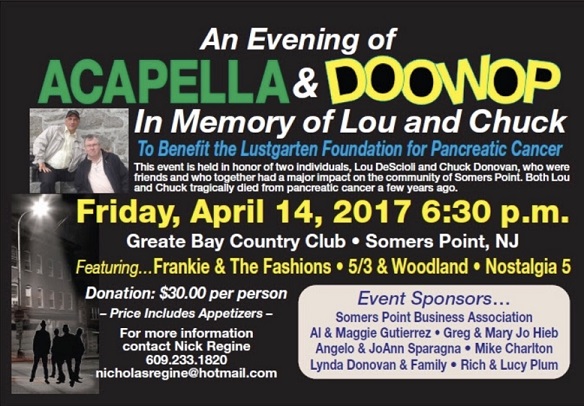 Featuring the harmonies of Frankie and the Fashions, 5/3 and Woodland, and Nostalgia 5
PURCHASE TICKETS ($30 pp) HERE.
6:30 Greeting and Appetizers (included in ticket price) – Cash Bar
7:30 Opening Remarks
7:45 Performance
"An Evening of Acapella and Doo Wop" is being done in memory of Lou DeScioli and Chuck Donovan to benefit pancreatic cancer research.
Both Lou and Chuck, who together had a major positive impact on the community of Somers Point, tragically died from this disease a few years ago.
Proceeds from this event will go to the Lustgarten Foundation for Pancreatic Cancer Research.
An event hosted by The Somers Point Business Association.
Greate Bay Country Club
901 Mays Landing Road, Somers Point
Tickets are $30