A Winter Storm is headed our way with the potential of significant to major snowfall over the much of the Northeastern U.S. Pretty amazing given the fact that temperatures will be in the upper 50s today with 60s inland. There will be a big difference in snow accumulations across the state due to the expected track of the storm and changeover times of rain to snow.
Last Mild Day..
Mild air continues to take hold over the East Coast. But that will come to an end. A strong cold front will push through during the day Wednesday shifting winds from the southwest to the northwest. Temperatures will begin to drop Wednesday night as cold air rushes in.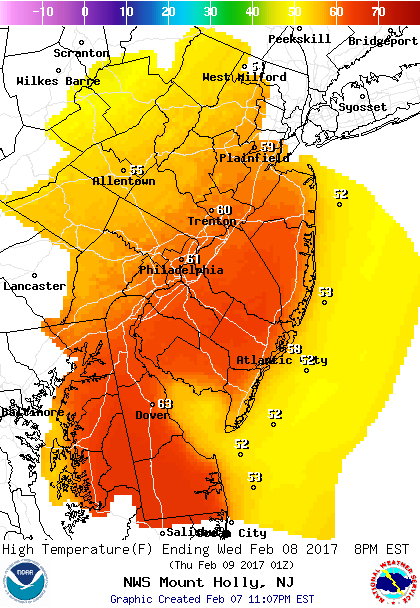 High temperatures before the front moves in Wednesday. (50s Coast, 60s Inland)
Winter Storm Arrives Thursday morning..
Models are coming together for a nasty winter storm for the Northeast U.S. A wave of low pressure will ride along the front bringing a round of precipitation overnight Wednesday night into Thursday morning. Temperatures will be in the 40s overnight which will be "warm" enough for rain.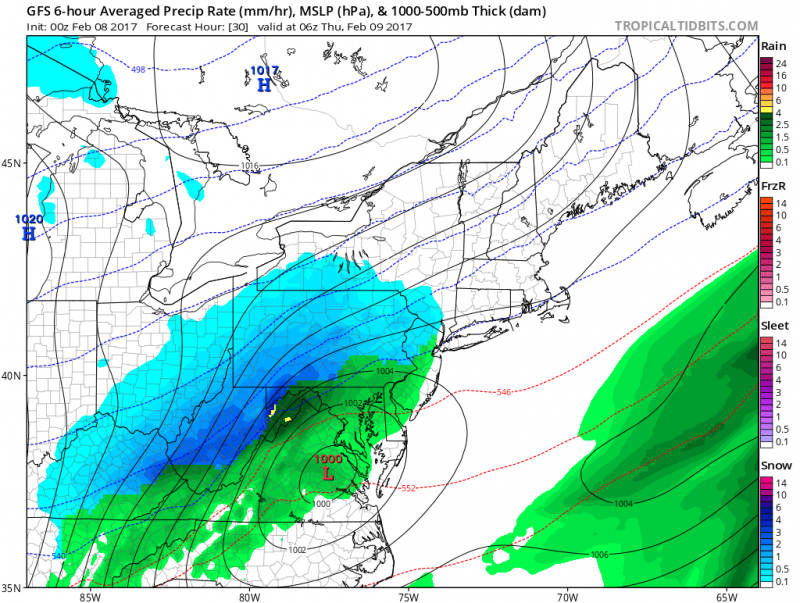 Computer models show that rain arrives after 1am Thursday. (Courtesy: tropicaltidbits.com)
As cold air races in and the storm begins to rapidly intensify offshore, rain is expected to change to snow.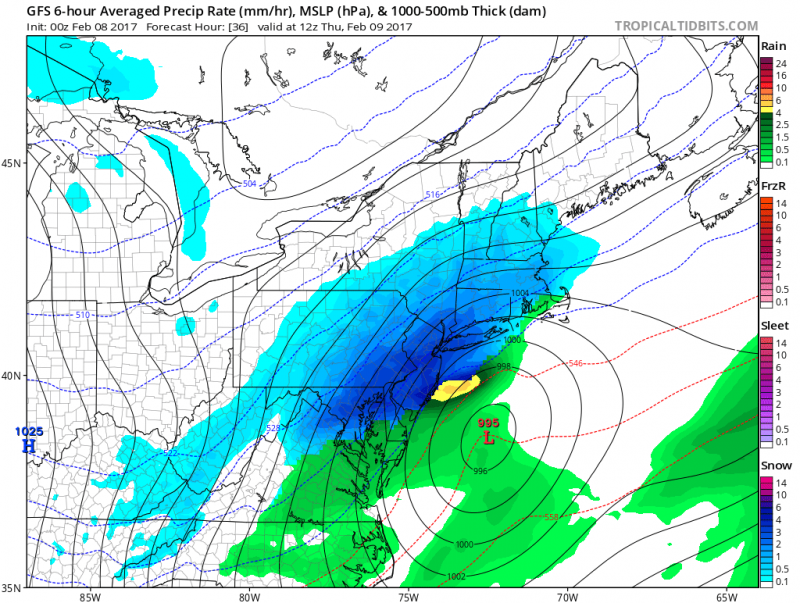 Computer model shows intensifying storm offshore pulling cold air into our area changing rain to snow. (Courtesy:tropicaltidbits.com)
Atlantic and Cape May Counties will be the last in the state to changeover. Coupled with "warm" surface temperatures, snow amounts in our area will be limited unlike the rest of the state. If you are traveling north & west, snow accumulations will increase especially when you travel into northern Ocean County and further into Southwestern NJ and Philadelphia where 4″-6″ are possible.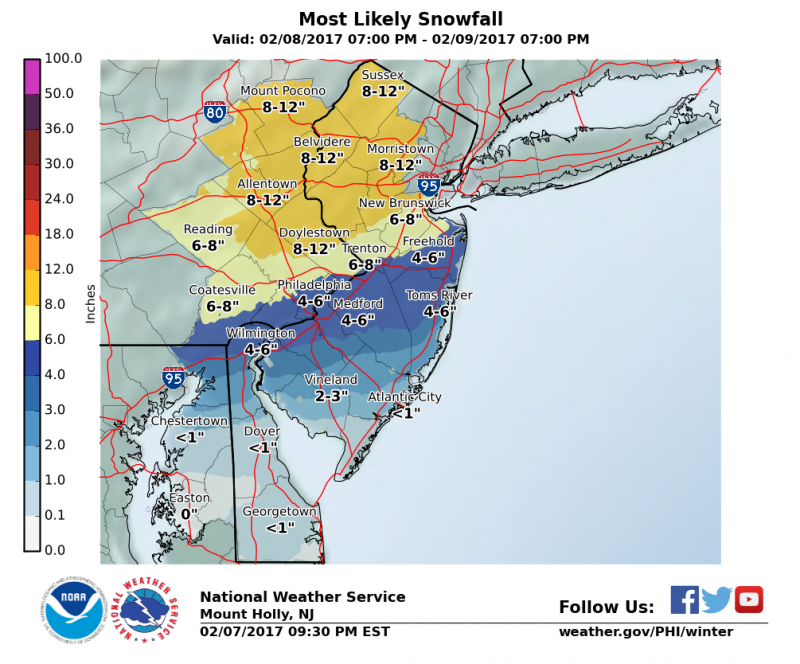 Expected snow amounts expected to be around 1″ especially in Cape May County. Roads will mainly be wet through the early morning but as steadier snow falls after 8am, roads could get slushy as temperatures approach the freezing mark.
NOAA: Snow total ensembles are coming closer together showing most likely snowfall less than 2″.
Any snow should end after 2pm Thursday. However, temperatures will remain in the 30s, winds will gust over 30mph in the afternoon and evening causing wind chills to drop into the 20s and then teens at night. Any standing water or slush will freeze after dark, so watch for ice!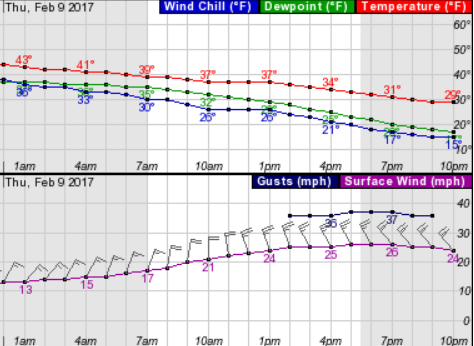 Cold blast will continue into Friday where highs will remain in the 30s despite sunny skies. Temperatures will rebound this weekend back into the 40s and near 50 by Sunday.
WHAT TO EXPECT
Rain arrives after 4am Thursday
Rain mixes with sleet and snow after 7am Thursday
Steady snow possible 9am-11am
Total Accumulations around 1″