By Donald Wittkowski
You might say that Liz Foglio has a home-field advantage when it comes to competing against the big-box retailers in the carpeting and flooring business.
Her 5,000-square-foot Foglio's Flooring Center at 344 S. Shore Road in the Marmora section of Upper Township is next door to the house she grew up in with her parents, Doris and Frank Foglio. Her father is deceased, but her mother still lives in the same house.
She built her current store in 1991 on property that her father, a local builder, once used as his garden. In 2001, she expanded by adding a flooring warehouse behind the store.
Her father previously owned Foglio's Flooring Center. She took over the business in 1988. Foglio believes her family's longtime ties to Upper Township have allowed her to establish a special relationship with local customers that no big-box retailers could possibly match.
"We survive by word of mouth," Foglio said.
Foglio credited her nine full-time employees for solidifying those customer bonds and helping the store to be successful.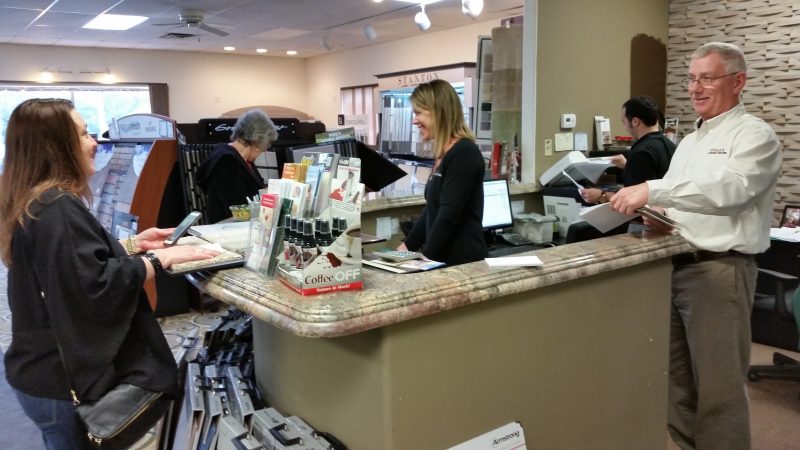 But top-notch customer service alone does not allow her store to compete with the gigantic home-improvement chains such as Home Depot and Lowe's, she acknowledged. Affordable prices are another key.
"If a customer comes in, they'll find out that our pricing is better than them," Foglio said, alluding to the big retailers.
Pandora Mason, the store manager, said Foglio's never plays games with its customers when it comes to pricing and service.
"We're upfront and honest with our pricing. There are no hidden fees," Mason said. "Our integrity is intact, and we're proud of that. We're always here for our customers."
Foglio and Mason both stressed that the store stands behind its products and services.
Foglio's customers include year-round local residents as well as vacation-home owners at the Jersey Shore. One day, the store may be outfitting a local ranch-style home with flooring, while the next day it could be a multimillion-dollar beachfront mansion
"They're different," Foglio said of her customer base. "There's no one-size-fits-all for everybody. Everyone is different."
Reflecting that philosophy, the store carries an array of flooring, including carpeting, hardwood and tile to meet its customers' needs. It also has wood wall coverings, a hot trend in decorating.
"We offer all types of floor covering. Anything for the floor," Foglio said. "We have products that range from the entry-level, do-it-yourself brands up to the designer names."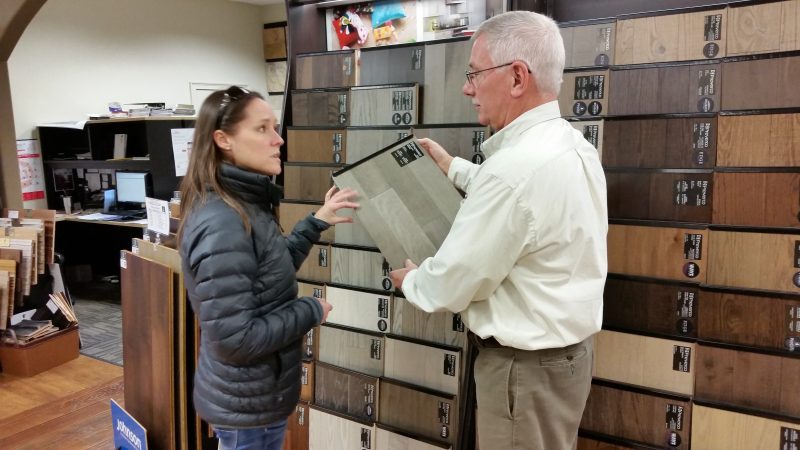 The U.S.-based Mohawk brand of flooring is Foglio's main product line, accounting for about 70 percent of the store inventory. Foglio's is considered a "Mohawk Color Center Elite," a classification that is just below an actual Mohawk franchise. Foglio's close relationship with Mohawk allows the store to get special deals from the manufacturer that can be passed on to customers.
For instance, customers can take advantage of interest-free financing arranged through Mohawk for between 12 and 24 months, depending on the promotion, Mason said.
Foglio noted that her store may work closer with Mohawk in the future to expand its online marketing. In addition to having a website, the store also uses social media to promote itself.
Preverco hardwood flooring is another main brand carried by Foglio's. Preverco, based in Canada, makes flooring that ranges from budget lines to high-end hardwood.
Although do-it-yourself projects have been a staple of the home-improvement industry for years, Foglio said most of her customers simply want the store to take care of everything, from start to finish.
Foglio's Flooring Center is planning its own renovation project in 2017. The showroom will get a makeover, allowing the store to introduce more products and enhance its customer experience. It also plans to add a new coffee bar and will improve its kid-friendly play area.
"We're gearing it toward anyone who comes in the store, to make them feel more comfortable," Foglio said.
That strategy ties in with the strong customer relationships that the store has established since the 1980s, Foglio said.
While other local home-improvement businesses may struggle to compete with the big chains, Foglio's has thrived. It once occupied a 1,200-square-foot store, but the current location is more than four times that size – with more improvements to come.