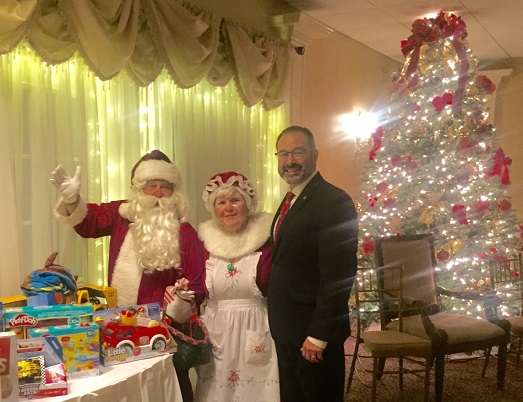 Somers Point, NJ – December 8, 2016 – The Somers Point Business Association (SPBA) hosted its annual Holiday Party at the Greate Bay County Club December 6.
The festivities, which included a special visit from Santa and Mrs. Claus and great food, also featured a Toy Drive, where people in attendance brought in new, unwrapped toys. Nearly 70 toys were donated, which will be distributed to the New York Avenue School in Somers Point. The SPBA is an organization that brings together businesses and professionals interested in the promotion, improvement and advancement of the business climate of Somers Point and in the surrounding areas. The SPBA hosts monthly meetings on relevant and timely business issues. For more information on the Somers Point Business Association or to become a member, please visit www.somerspointba.org or call 609-920-7004. For more information on the City of Somers Point, NJ, please visit www.somerspointgov.org or call 609-927-9088.
About the City of Somers Point
The City of Somers Point is the oldest settlement in Atlantic County, dating back to 1693. This four square mile attractive town is located in the eastern portion of Atlantic County in what was once known as Great Egg Harbor and was first incorporated as a borough in 1886. Somers Point's tagline – "The Shore Starts Here"SM – lets visitors, homebuyers and business owners know that whether they're looking to live, work or play at the shore, Somers Point is the ideal place to start. Somers Point is primarily a residential community with a relatively large proportion of its residents employed in professional services or executive positions in Somers Point and neighboring communities. Because of Somers Point's location on the Great Egg Harbor River bayfront, it is known for its marinas, boating, and fine restaurants. Somers Point also has a vast variety of small and large shops and businesses located throughout the community.