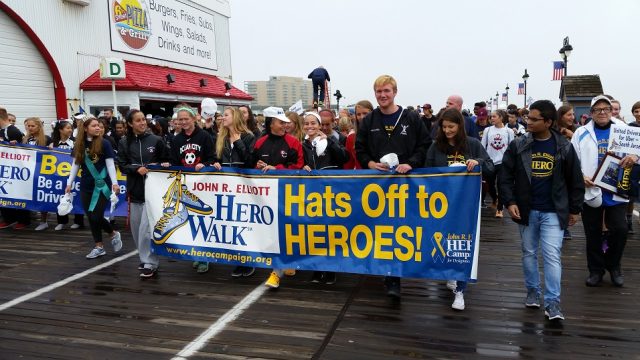 By Donald Wittkowski  
For more than 100 years, graduates at the U.S. Naval Academy have celebrated their commencement with a famous "hats off" tradition that includes tossing their caps high into the air.
On Sunday, another hat-tossing ceremony was performed by hundreds of people on the Ocean City Boardwalk to pay tribute to a Navy ensign, John R. Elliott, who was killed by a drunk driver just two months after he graduated from the Academy in 2000.
The hat tossing was a poignant moment during a 5K fundraising walk that benefits the John R. Elliott HERO Campaign for Designated Drivers. Now in its sixth year, the HERO Walk was expected to raise about $50,000 and had 600 people pre-register to participate.
The event also served as the backdrop for a new television commercial for the HERO Campaign. As the fundraiser was about to get underway, a TV crew filmed many of the walkers, who were wearing white "Be a HERO" caps, toss them high into the air in a symbolic gesture to honor Elliott.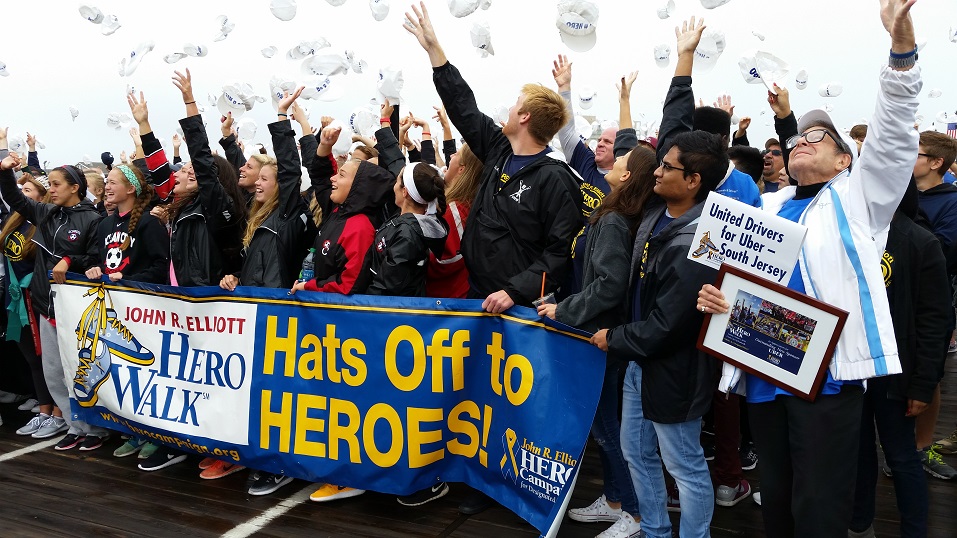 Elliott was heading to his parents' house in Egg Harbor Township for his mother's birthday when he was killed by a drunk driver on July 22, 2000, in a head-on crash in Upper Pittsgrove Township, Salem County.
His death inspired his parents, Bill and Muriel Elliott, to form the HERO Campaign, a nonprofit that advocates for the use of designated drivers to take people home after they have been drinking. The HERO acronym stands for Human Education Resources Officer, a top honor and prestigious mentoring position that was given to John Elliott during his senior year at the Naval Academy.
The HERO Campaign has inspired 30,000 people to sign pledge cards to serve as designated drivers or to use one when alcohol is involved. Elliott's death was also the catalyst for state legislation, called John's Law. It allows police in New Jersey to seize the vehicles of suspected drunk drivers for up to 12 hours after they are arrested.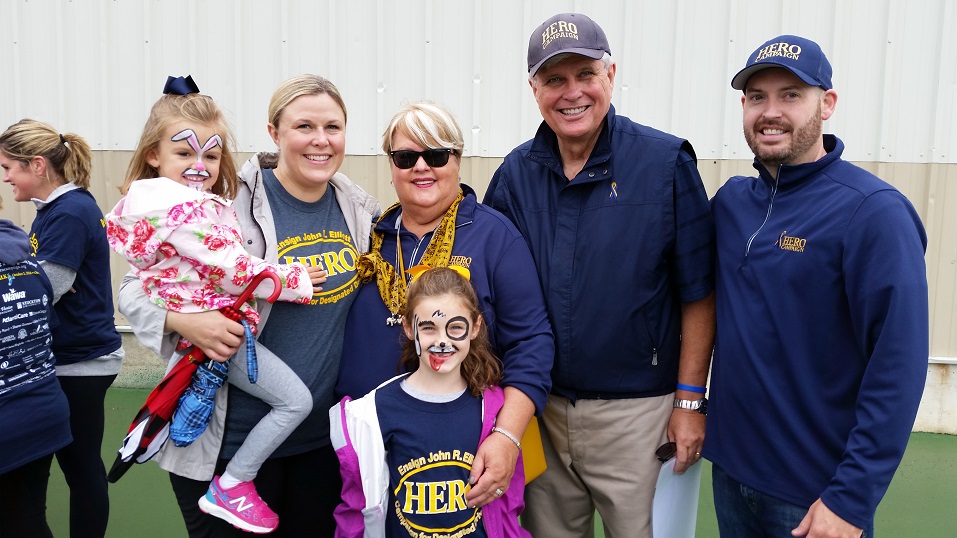 The man who killed Elliott had been arrested and charged with drunken driving just two hours before the crash, but was released to the custody of a friend, who let him get behind the wheel again. He then crashed into Elliott's car, killing them both.
Bill and Muriel Elliott, who serve as co-chairs of the HERO Campaign, have been searching for new partnerships and corporate sponsors to elevate the organization to a national level. At Sunday's fundraising walk, they stressed their commitment to help make highways safer through the campaign's push for designated drivers.
"There are too many people being killed and injured by drunk drivers," Bill Elliott said.
The HERO Campaign has been credited with helping to reduce the number of drunken driving fatalities in New Jersey and other states. So far, New Jersey, Delaware, Pennsylvania, Kentucky and Virginia have formally embraced the campaign's call for designated drivers.
Jennifer Adamchak, John Elliott's sister and the vice chair of the HERO Campaign, said Sunday's fundraising walk underscored the importance of preventing other deaths in drunk driving accidents.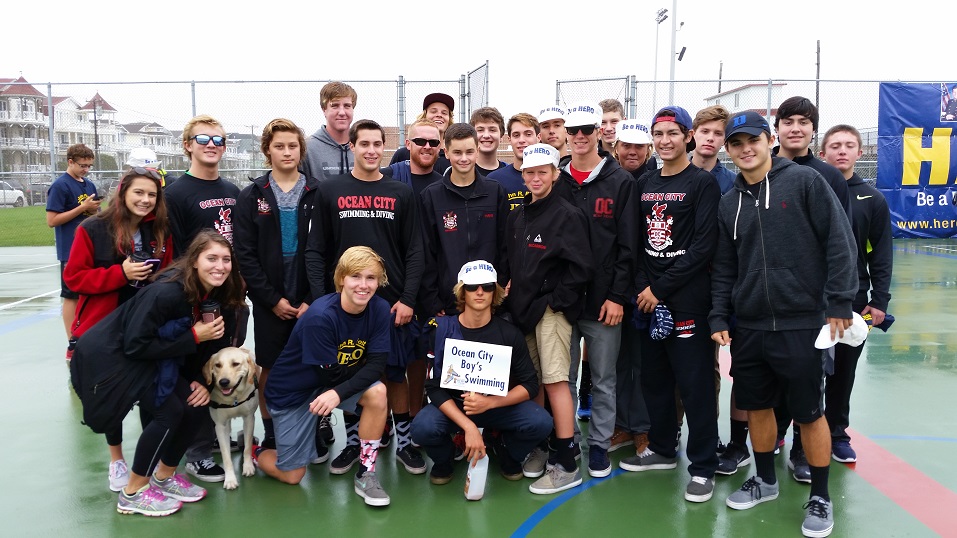 "It's important to us and for John and for other families who have lost a family member," Adamchak said.
Ocean City's school district had a major presence at the walk. The Ocean City High School girls' soccer team, which has raised money for the HERO Campaign, will be featured in the new television commercial.
Ocean City teachers, students and their families were also among the walkers. Ocean City sports teams and the Key Club have raised $30,000 for the HERO Campaign in the past five years, according to a press release.
Clay Mitman, an 18-year-old senior at Ocean City High School and a member of the boys' swimming team, said the HERO Campaign's message for designated drivers is resonating with his classmates and other younger people.
"It is definitely sinking in. I see a lot of younger people here," Mitman said of the walkers.
Mitman was one of the walkers who were wearing white caps emblazoned with the words "Be a HERO" in Navy blue letters.
Moments before the walk began, the crowd was given the signal to toss the caps high into the air, just like John Elliott would have done when he graduated from the Naval Academy 16 years ago.