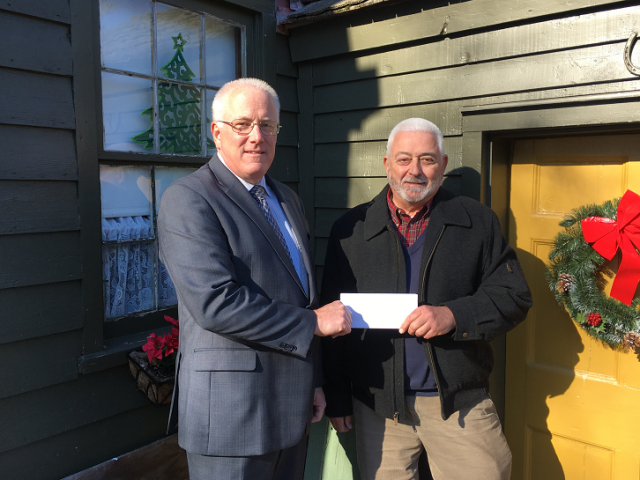 Sturdy Savings Bank's Dennisville Branch Manager Chris Hayes presented a sponsorship check to Jack Connelly, president of the Dennisville Historic Home Owners Association, sponsoring the 28th Annual Historic Dennisville Christmas House Tour taking place on Saturday, December 16.
The Historic Dennisville Christmas House Tour is the Association's premier fundraising event. Each year, a minimum of eight beautifully decorated 18th and 19th century historic homes, as well as several public buildings and two churches, are open to the public in Dennisville. Tickets are sold the day of the event at the Dennisville Post Office, 24 Hall Avenue, for $15. Advance tickets are available online at www.dhhoa.org/.
Refreshments and a Soup and Sandwich Supper will be available at the South Dennis Trinity Methodist Church beginning at 3 p.m. until food runs out. Tickets for the meals are $8 for adults and $3.50 for children under 12.
Sturdy Savings Bank serves Cape May and Atlantic Counties at 13 branches located in Avalon, Cape May, Cape May Court House, Dennisville, North Cape May, North Wildwood, Ocean City, Rio Grande, Somers Point, Stone Harbor, Tuckahoe, and Wildwood Crest.
Sturdy Savings Bank, Member FDIC, was built on a simple principle: serving the community. Their mission remains the same ~ some 95 years later. Sturdy employees are committed to neighborhood service. You'll find them where it matters most: your little league fields, senior citizen centers, schools, firehouses and churches. They'll be at the AARP luncheons, the local symphony concerts and the food pantry fundraisers. Sturdy has grown from a small-town savings and loan association to a local, full service bank that understands there is no place like "home," and they are dedicated to their role as a community neighbor, partner and leader.
For more information about the Historic Dennisville Christmas House Tour, visit www.dhhoa.org/ or call 609-861-1338.
For more information about Sturdy Savings Bank, visit www.SturdyOnline.com or call 609-463-5220. Sturdy Savings Bank, Member FDIC is an Equal Housing Lender.