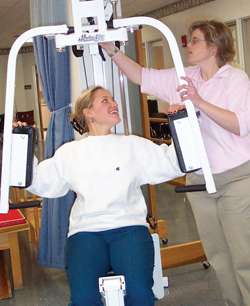 Public Invited to official ribbon cutting and Open House, August 22 
Shore Medical Center announced today is the Grand Opening of a new location for its Center for Outpatient Rehabilitation which will provide patients with a more convenient location for outpatient cardiac and pulmonary rehabilitation; physical, occupational and speech therapies; and balance assessments. These services are moving from the fourth floor of the medical center to the Tomlinson Building, 710 Centre Street, Somers Point, NJ. The center officially opens July 31. Hours of operation will be Monday through Friday, 7AM to 7PM with additional hours planned for Saturdays.
Patients and other community members are invited to tour the new facility at an open house and ribbon cutting on Tuesday, Aug. 22 at 2 pm. The event will feature heart-healthy refreshments and an opportunity to meet the rehabilitation teams.
The new center offers convenient parking just a short walk from the entrance in a fully renovated facility that includes state of the art exercise equipment and private spaces for consultation, while continuing to provide an expert team of professionals that patients expect at Shore Medical Center.
Shore President and CEO Ron Johnson says the move aligns with Shore Medical Center's status as New Jersey's only Planetree-Designated Patient-Centered Care Hospital.
"As a Planetree organization, the patient experience drives our decision-making here at Shore. This new Center for Outpatient Rehabilitation is one great example of that.  We look forward to making it even easier for our patients to access the high quality, patient-centered care we are known for providing," Johnson said.
For more information, visit www.shoremedicalcenter.org or call 609-653-4677.
 About Shore Medical Center At Shore Medical Center, located in Somers Point, NJ, kindness complements an extraordinary level of clinical sophistication. People are the foundation of this modern medical center where advanced technology harmonizes with compassionate care. Shore Medical Center attracts the area's best physicians, nurses and clinicians, and is the first and only hospital in New Jersey and one of 86 healthcare organizations worldwide to earn Designation as a Planetree Patient-Centered Care Hospital®. Recognized for its dedication to patient safety, Shore has received six consecutive "A" grades in The Leapfrog Group's Hospital Safety Score since Fall 2014. Shore Medical Center is home to six Centers of Excellence for Cancer, Cardiovascular, Neurosciences, Spine and Orthopedic, Emergency and Maternity and Pediatric care. Shore's affiliations include Penn Medicine, Onsite Neonatal Partners, St. Christopher's Hospital for Children, Advanced ICU Care, Mayo Medical Laboratories, and Advanced Radiology Solutions. In addition, Shore is a member of the Jefferson Neuroscience Network and has physicians on staff from the Rothman Institute. In 2011, Shore opened its Pediatric Care Center, the first of its kind in New Jersey, and its state-of-the-art Surgical Pavilion and Campus Expansion. The Shore Medical Center Planned Giving & Development team (www.GivetoShore.org) creates and implements dynamic philanthropic programs that support the mission of Shore Medical Center. For more information about Shore Medical Center, visit www.ShoreMedicalCenter.org.